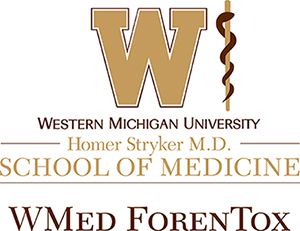 To ensure that the toxicology laboratory meets national and international standards of good laboratory practices, WMed Forentox is directed by a board-certified forensic toxicologist and is staffed by certified and licensed professionals.
WMed ForenTox holds appropriate licenses and accreditation, including:
Voluntarily participation in the College of American Pathologists (CAP) proficiency testing program.
Analytical Laboratory Controlled Substance License through the Michigan Department of Licensing and Regulatory Affairs.
Controlled Substance Registration through the US Department of Justice Drug Enforcement Administration.
Laboratory registration through the Centers for Medicare and Medicaid Services as defined under the Clinical Laboratory Improvement Amendments (CLIA).
COLA Accreditation of mobile lab point-of-care device for West Michigan Air Care.
ForenTox Test Catalogue
Future testing that will be available in the near future includes:
Volatile Compounds 
Pain Management Testing 
Oral Fluid Testing 
Blood Lead Testing