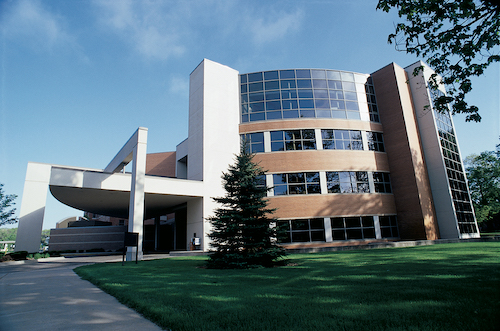 More than 60 resident physicians and fellows were honored in June for completing their residency programs at WMed.
While the physical ceremony to honor the graduates was canceled due to the COVID-19 pandemic, several programs found a way to celebrate their graduates in private ceremonies.
The graduates have spent between one and five years training in Southwest Michigan. 
WMed boasts nine residency programs in the specialties of Emergency Medicine, Family Medicine, General Surgery, Internal Medicine, Medicine-Pediatrics, Obstetrics and Gynecology, Orthopaedic Surgery, Pediatrics, and Psychiatry. There also are three one-year fellowships for Emergency Medical Services, Simulation, and Sports Medicine.
Of the 62 residents and fellows celebrated this year, eight of them will remain and work in the Kalamazoo area. Meanwhile, an additional eight residents will work in other cities in Michigan. Others will work through the nation, while many will go on to fellowship training.
Here's a complete list of this year's resident and fellow graduates, as well as faculty who received awards:
Emergency Medicine
Mark Justin Cooper, MD
Benjamin Alan Cramer, MD (Chief)
Daniel Webster Dietemann, DO
Patrick Michael Donohue, DO
Nathan Scott Elg, DO (Chief)
Jason Andrew Garner, DO
Jesse Christopher Gortner, DO
Tahuriah Gulnaz Khan, DO
Clay Hugh Joseph Mishler, MD
Paige Elizabeth Neaterour, MD
John Kyle Parker, DO
Michael Patlajan, MD
Daniel Thomas Piedmonte, MD
Cyle Douglas Rogotzke, MD
Aaron Edward Rumburg, MD
Collin James Sabatini, DO (Chief)
Nicholas Weesley Vryhof, MD
Andrew Whittington Walker, MD
Andrew Howard Wenger, DO
Emergency Medical Services Fellowship
John Ocenar Agular, MD
Family Medicine
Rubina Siddiq Baig, MD
Angela Marie Barreto, MD
Ryan Edwin Bentley, MD, DC, PhD (Chief)
Rohit Chandler Chopra, MD
Dalal Ghossein Kassir, MD (Chief)
Jeffrey Douglas Laman, MD
Megan Danielle Potilechio, DO
Mohiman Saffar, MD
General Surgery
Mohamed-Omar Samir Arafeh, MD (Chief)
Jairo Andres Espinosa, MD (Chief)
Gulrez Tahir Mahmood, MD (Chief)
Internal Medicine
Anandbir Singh Bath, MD
Katherine Grace Bolton, DO
Vishal Deepak, MD (Chief)
Mehdi Raza Farishta, MD
Amar Sailesh Jaswa, DO
Jasreen Kaur, MD
April Michele Korneli, DO (Chief)
Gabriel Charles Kousourou, DO
Anushareddy Muddasani, MD
Mridul Parmar, MD
James Joseph Vaillant, MD (Chief)
Russell Aaron Van Maele, DO
Medicine-Pediatrics
Rose Plaina Archemetre, MD
Cayleigh Mae Blumrick, MD (Chief)
Rheanne Kimberly Maravelas, MD
Zachary Clarke Rich, MD (Chief)
Orthopaedic Surgery
Cody Ronald Bearden, MD (Chief)
Christine Alyse Bowman, MD (Chief)
Joshua Mark Veenstra, MD (Chief)
Pediatrics
Shilpa Chopra, MD
Ahmed Zuhair Hasan El-Isa, MD (Chief)
Roxanne Loraine Graham, MD (Chief)
Anna Marie Kegel, DO
Alexander Joseph Lake, DO
Cinthya Gissell Melendez Contreras, MD
Emily Alexis Niemyjski, DO
Psychiatry
Arslan Wali Ahmed, DO
Anish Chaitanya Desai, MD (Chief)
Christine Elizabeth Larkin, MD
Jay Yogendra Patel, MD
Sports Medicine Fellowship
Alexander Andrew Spiewak, DO
2020 Teaching Awards
Emergency Medicine 
Wael Hakmeh, DO 
Family Medicine 
Stephanie Ellwood, DO 
Steve Pollens, MD 
General Surgery 
Sheldon Maltz, MD 
D. Brandon Minnick, DO
Internal Medicine 
Scott Timmer, MD 
Spencer Winters, MD 
Corey Lager, MD 
Medicine-Pediatrics 
Jayne Barr, MD, MPH
Pimpawan Boapimp, MD 
Pediatrics 
Natalie Behrle, MD, MS 
Angela Lai, MD 
Psychiatry 
Mark Kanzawa, DO 
Perry Westerman, MD