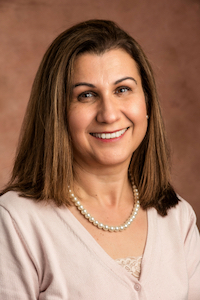 The mission of WMed's Division of Pediatric Endocrinology is to provide excellent, evidence-based, comprehensive services to children and adolescents with endocrine disorders and diabetes in a patient- and family-centered environment.
Our vision is to empower interdisciplinary collaboration within WMed and the community to deliver the highest quality care. In addition, our goal is to train medical students and residents to be well-rounded in the art and science of pediatric endocrinology and diabetes and engage in practice improvement and research to increase the general fund of knowledge about these conditions.
Berrin Ergun-Longmire, MD, associate professor, leads the Division of Pediatric Endocrinology and is fellowship-trained and board-certified in pediatrics and pediatric endocrinology. She completed her pediatrics residency at the Monmouth Medical Center, Long Branch, NJ and pediatric endocrinology fellowship at the Weill Cornell University, New York, NY. She has held faculty appointments at several academic health centers and has practiced in clinical and academic settings over the last 15 years. She has published numerous articles, book chapters and has delivered scientific and invited presentations nationally and internationally.
Dr. Ergun-Longmire collaborates closely with other members of the care team at WMed Health and Bronson Children's Hospital. The full spectrum of pediatric endocrinology and diabetes care is provided by a multidisciplinary team that includes registered dieticians, certified diabetes educators, medical social workers, nursing, medical assistants, and pediatric endocrinology nurse practitioners.
Services
The Division of Pediatric Endocrinology provides a full spectrum of pediatric endocrinology and diabetes care at our WMed Health practice located on the first floor of WMed Health's Oakland Drive Campus, 1000 Oakland Drive, Kalamazoo, MI 49008, and also at our WMed Health - Mall Drive location at 670 Mall Drive, Portage, MI 49024.
Division Team Members