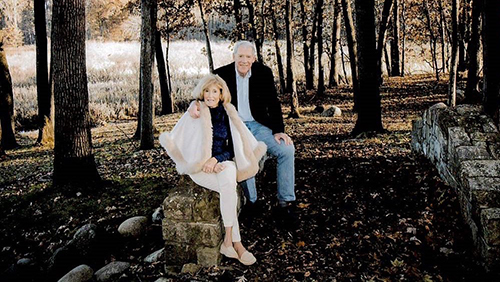 Since 2012, when two prominent Kalamazoo residents and close friends lost their lives to suicide, Susan C. Brown has set about to make a change, to enhance access to quality mental health services in Southwest Michigan and reduce the stigma for those who seek help for mental illness.
Her efforts led to the formation of the Kalamazoo Collaborative Care Program (KCCP), an organization with the mission of bringing awareness to mental health and fostering a care model with a focus on quality mental healthcare for all and increasing community awareness about where and how to find mental healthcare.
Now, Brown's passion to help those dealing with mental illness has led to a substantial gift given in her honor to form the Geriatric Psychiatry Endowed Fund at the medical school. The generous gift was given in late 2019 by Rosemary and John W. Brown, two well-known Kalamazoo philanthropists who are close friends of Susan Brown and Susan's husband, Bob Brown. John W. Brown is the former chairman of Stryker Corp. and during his 32 years of leadership Stryker became a world-renowned company. 
"Susan has played an important role in Kalamazoo and in Michigan with her dedication to many worthy causes and she is deserving of this honor," Rosemary Brown said. "Susan has a personal connection to this area of medicine and we want to support her dedication."
Rajiv Tandon, MD, chair of the medical school's Department of Psychiatry, called Susan Brown an inspiration and he said the generosity of Rosemary and John Brown will support the development "of a premier mental healthcare delivery system that will provide access to all in Kalamazoo through collaborative clinical services, research and education."
"Access to quality mental healthcare, that's the real objective," said Dr. Tandon, who serves on the KCCP steering committee. "This gift allows WMed to take the lead on that. One of the challenges in the community is the fact that we need more mental health resources and we have to improve collaboration and coordination.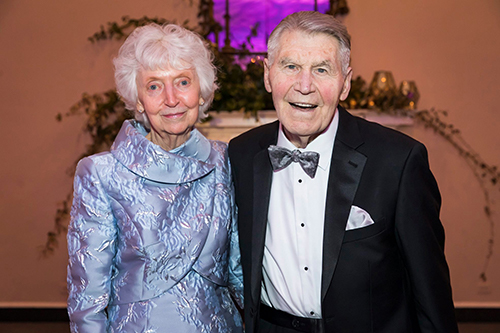 "Essentially, the idea is that we are a community medical school, the community was instrumental in launching us, and this is our commitment now, this is where we bring those resources together," Dr. Tandon added.
Susan Brown said much has been accomplished in Kalamazoo and Southwest Michigan since the initiation of the KCCP in 2013 and that work continues. She said the success of the KCCP helped lay the groundwork for the generous gift from Rosemary and John Brown. As a friend of Susan's, Rosemary was keenly aware of the work Susan was doing through the KCCP and well aware of her friend's passion for the project, Susan Brown said.
"They are such fantastic people and they have made such a wonderful impact on our community throughout the years," Susan said. "They made Stryker what it is today, a world-renowned, premiere company. Rosemary has been my friend for years and for years I have loved introducing her as my 'sister.' She and John are true blue to Kalamazoo and are always interested in what is going on here."
The KCCP was established following the deaths of two of Susan Brown's friends – Jim Field and Tom Harding – who lost their lives to suicide. The tragedies brought into focus the urgent need for early recognition and intervention for depression to prevent future tragedies in Kalamazoo, which Brown learned had a higher-than-average rate of suicide. 
In response, Brown rallied the financial support of numerous friends, community leaders and community foundations to join with her in combatting what she saw as a community-wide problem. In 2012, she and Bob hosted a gathering for their grieving friends and, with the help of John Greden, MD, founder and executive director of the University of Michigan Depression Center and founding chair of the National Network of Depression Centers, sponsored a large dinner where each person in attendance donated a $1,000 to fuel the launch of the KCCP and its plan to combat mental illness.
Additionally, a core group that included representatives from WMed, Ascension Borgess, Bronson Healthcare and Kalamazoo Community Mental Health, and others was formed. At the same time, Brown worked with her alma mater, the University of Michigan, and funded a pilot study from the U-M Depression Center to find ways to address the need for more psychiatrists and increased access to mental healthcare in Kalamazoo.
That pilot study conducted by U-M identified a plethora of deficiencies and needs in Kalamazoo, including a marked shortage of psychiatrists and an associated lack of access to mental health services across all ages and segments of the community, as well as a need for improved outpatient mental health services. That prompted the launch of the KCCP at WMed and, in its initial phase, the program helped forge a team-based mental health services model that coordinates and integrates primary care and mental health services in one setting. U-M and WMed are continuing to collaborate and U-M is remaining actively engaged with the KCCP through the work of Dr. Tandon, Dr. Greden, who is Dr. Tandon's mentor, and Gregory Dalack, chair of the Department of Psychiatry at University of Michigan Medical School. 
The KCCP officially began in 2015 and by 2018 the first clinic utilizing the program's model of team-based care opened. A second clinic opened in 2019. The effort has proven successful, leading to an overall decrease in depression and anxiety for patients who were enrolled in the KCCP.
Today, as the program enters its second phase known as the Kalamazoo Collaborative Care Model 2020, the program is being led by a steering committee that includes community stakeholders, community mental health leaders, and physicians and staff from WMed, including Drs. Tandon, David Dunstone, and Perry Westerman, interim program director of the medical school's Psychiatry Residency Program.
Susan Brown called Dr. Tandon "a star" and said that his work, along with that of Drs. Dunstone and Westerman, has invigorated the KCCP and will help Kalamazoo become a model for how communities deliver quality mental health services.
"We are the home of The Kalamazoo Promise and we can also be the home of state-of-the-art mental health services," she said.
The new phase for KCCP is building upon the success of KCCP and has five main objectives: improving accessibility for more timely mental health services; decreasing the stigma associated with seeking mental health services; closing the gaps in mental health services; improving communication between agencies and providing a community-wide directory for mental health services; and promoting the collaboration of care with primary care practices while also focusing on specialized populations such as women's health and geriatric mental health.
Dr. Tandon said the broadening of KCCP's mission comes at a time during which depression is the leading cause of disability in the world, costing billions of dollars per year of lost productivity in the U.S. Even more, in the midst of the COVID-19 pandemic, there has been a spike in depression and anxiety as people deal with the widespread effects of social isolation, job loss, homelessness and burnout for front-line healthcare workers, among many other things.
"One of the things that attracted me to Kalamazoo was the strong community commitment of people here," Dr. Tandon said. "Folks want to invest in Kalamazoo. It's a very caring community and that support will be key as there is a lot that needs to be done to build a mental healthcare system in Kalamazoo that we can be proud of."
Moving forward, Susan Brown said the involvement of leaders at WMed will be vital. Financial support led by the gift of Rosemary and John Brown will also be critical to launching endowed professorships and fellowships within the Department of Psychiatry at WMed. 
Susan Brown said she has no doubt that the significant gift from her friends will have a "huge impact" and put into action the help to solve what she called "a community problem and a community responsibility." 
She said the generosity of Rosemary and John Brown will pave the way to Kalamazoo becoming a leader in the state and nationally in forging a mental healthcare system that is coordinated and seamless for the community to access.
"I don't think I've ever been so excited about anything," Susan Brown said. "When you see the impact that this help gives to people suffering from anxiety and depression, no matter what age, you're just thrilled. Good health is mental, as well as physical. Primary physicians now are expected to be knowledgeable in both. Kalamazoo has the means to do this --, a concerned and well-advised community, a rising medical school, and a chair of Psychiatry who will lead us there."
For their part, Rosemary Brown said she is hopeful that the gift from her and John will prompt others to support the work being done by Susan Brown and the KCCP.
"We are hoping to call attention to a need and to encourage other donors to give," she said.