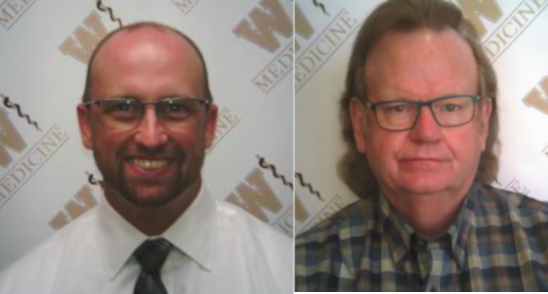 The medical school recently welcomed two fellows who will complete their training in areas of medicine that are seeing critical shortages of physicians.
One-year fellowships in Hospice and Palliative Medicine and Forensic Pathology started this month.
The Hospice and Palliative Medicine Fellow works day-to-day in patient care in the hospital and hospice setting and trains to care for seriously ill patients. The fellowship also includes a month of training in Geriatrics and a month of training in Pediatrics, along with an elective month, which could include ethics, Radiation Oncology, Interventional Radiology or specialities like Cardiac devices or Transplant Medicine, said Michael Trexler, MD, the Hospice and Palliative Medicine Fellowship Director who is also a clinical assistant professor in the medical school's Department of Medicine and Ascension Borgess Hospital Palliative Care Medical Director. The fellow will train with faculty at Hospice Care of Southwest Michigan, Ascension Borgess Hospital, Bronson Methodist Hospital, West Michigan Cancer Center, and Senior Care Partners P.A.C.E.
"We want to train people to manage symptoms very well and be able to communicate with expertise and compassion so they can support patients and their families while they are going through the stress of serious illness," Dr. Trexler said.
The medical school's new Hospice and Palliative Medicine fellowship is one of only five active programs in Michigan. The launch of the fellowship program at WMed comes at a critical time as there is a shortage of certified palliative care providers in the U.S. despite an ever-growing need and a population that is aging rapidly. Nationwide, there is a projected 6,000 shortage of palliative care physicians.
"There is a growing need in Kalamazoo and in Southwest Michigan for excellent care of the seriously ill or chronically ill patients," Dr. Trexler said. "We don't have enough providers to meet the growing needs out there but WMed provides an excellent base for our program to train more physicians to meet these needs."
In 2017, a generous $1 million gift from Hospice Care of Southwest Michigan infused efforts to establish the fellowship at WMed. Two fellowship positions will be open for the 2021-2022 academic year.
Peter Smith, MD, is training as the Hospice and Palliative Medicine Fellow in the medical school's Department of Medicine. Smith worked for more than 30 years as an anesthesiologist, most recently at Surgeon's Choice Medical Center. He earned his medical degree from Wayne State University School of Medicine. He completed a residency in anesthesiology and then a fellowship in cardiovascular anesthesia at Sinai Hospital in Detroit. 
Dr. Smith said he applied for the fellowship because he wanted to be able to practice medicine in an area where he could connect with patients and create the patient-physician relationship that he felt was lacking in anesthesia.
"The best part of my career in anesthesia was the preoperative interviews with patients and being able to find out more about them and put them at ease before surgery," Dr. Smith said.
Dr. Trexler said one hope of the fellowship program is to draw more palliative medicine physicians to Southwest Michigan. Dr. Smith said the location was a draw because his wife is a Comstock Township native. 
In forensic pathology, the new fellowship comes at a time where there is a critical shortage of forensic pathologists in the U.S. and worldwide. Currently, about 500 forensic pathologists practice in the U.S. and six of them are employed at WMed.
When the fellowship was approved by the Accreditation Council for Graduate Medical Education (ACGME) in April 2019, it was one of only 43 ACGME-approved forensic pathology fellowships in the country. 
"Nationally, there is a critical shortage of forensic pathologists, and that shortage is felt here in the Midwest, including in Michigan," said Theodore T. Brown, MD, fellowship director and an assistant professor in the medical school's Department of Pathology. "The opportunity to attract highly successful physicians to our program will strengthen the medicolegal death investigation system and is particularly exciting because we provide comprehensive medical examiner office services all within the same building for multiple counties."
Dr. Brown said his goal is to provide fellows with the training and opportunities to become leaders in the field of forensic pathology and the communities they serve throughout their careers.
"Our fellows will understand and practice the cognitive approach to medicolegal death investigations," Dr. Brown said. "Furthermore, our fellows will learn how they can best serve communities, and because we are part of the medical school, they will have opportunities to engage with our medical students. It is our hope that by having this fellowship here, we are not only providing an outstanding education for our fellows, but we are also further demonstrating to our own medical students that forensic pathology is a fulfilling career that needs future rising stars."
The program will allow the fellow the opportunity to delve into an array of different medicolegal death investigations as the Office of the Medical Examiner and Forensic Services, which is housed at the W.E. Upjohn M.D. Campus, serves 12 counties in Michigan and provides consultative forensic pathology services to multiple other counties in Western Michigan and Indiana. The department and the medical examiner's office work closely with forensic anthropologists, forensic toxicologists, and the Division of Neuropathology, which are all housed at the medical school, as well as a local odontologist and forensic cardiologist.
"The forensic pathology fellow functions similarly to our team of six forensic pathologists, ensuring that full medicolegal death investigations are completed with the highest integrity and thoroughness that our communities deserve," Dr. Brown said. "Our goal is to equip our fellows with the tools, the knowledge and experiences they need to serve as forensic pathologists and leaders in our field for years to come."
Jared Brooks, MD, the program's first fellow, earned his medical degree from the University of Washington and completed an anatomic pathology residency at the University of California at Irvine. Dr. Brooks said he hopes to return to the Anchorage, Alaska area to practice upon completing the fellowship. 
"It's really a unique confluence of many different fields," Dr. Brooks said of why he decided to practice forensic pathology. "It's part law enforcement, part public health and part medicine. It's difficult to find another area of medicine that converges on so many different fields all at once. Personally, it give me the opportunity to feel like I serve a community."
Dr. Brooks said he was attracted to WMed's program because of the smaller town feel of Kalamazoo and the diverse training background of the six forensic pathologists. He said the attending physicians show a tremendous amount of personal career investment in the young fellowship program.
"There's a level of enthusiasm and willingness to teach from the attendings at WMed," Dr. Brooks said. "That's not necessarily something that you would find at a program that's been well established for decades. It's a really welcoming environment to immerse yourself in the topic."