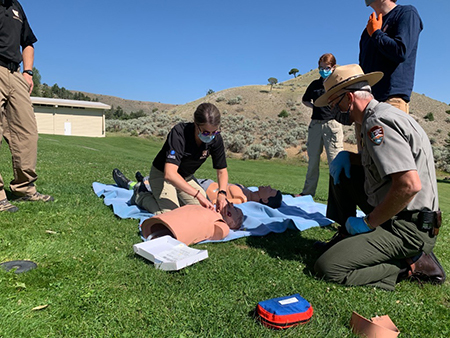 Since completing his Emergency Medicine training in Kalamazoo seven years ago, Dr. Will Selde has maintained strong ties with WMed, traveling back often from his home base in Wyoming where he serves as medical director for Yellowstone National Park to help teach medical students and residents.
Now, through Dr. Selde's role with the National Park Service and his continued work at WMed, a new and unique collaboration has led to the medical school's Department of Emergency Medicine now providing local medical direction for Yellowstone, the world's first national park. This is being done in coordination with Michael T. Handrigan, MD, CAPT, USPHS, who serves as the chief medical officer for EMS for the National Park Service and U.S. Forest Service.
"I think this new relationship has the opportunity for some really mutually beneficial impacts for oth Yellowstone and WMed," said Dr. Bill Fales, professor in the Department of Emergency Medicine who serves as director of the medical school's Division of EMS and Disaster Medicine. "Our residents are going to have the opportunity to train, provide medical control consultation, and take part in field responses with National Park Service EMS personnel and experience a unique aspect of emergency medicine, specifically wilderness EMS."
Dr. Selde said the new partnership between Yellowstone and WMed began to take shape last summer and plans quickly evolved after he became the park's medical director in March. Prior to starting his new role with Yellowstone, Dr. Selde said National Park Service officials reached out to him about his ties to WMed and how that relationship could foster a new partnership with the medical school to provide medical direction for the park and potentially open the door to other opportunities, including EMS-related research projects.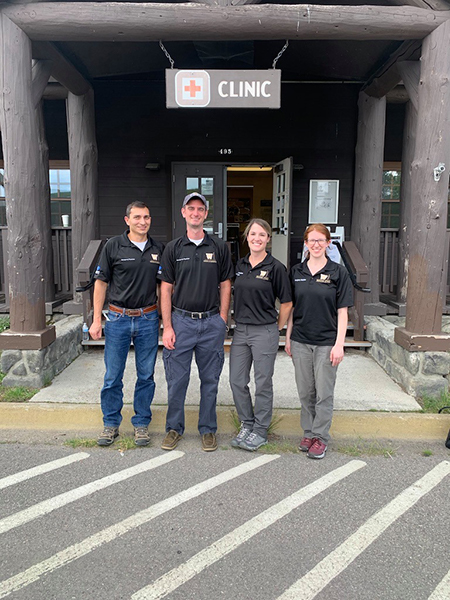 Emergency Medicine faculty began providing medical direction to Yellowstone EMS personnel in May, which was the same month that Dr. Fales and EMS Fellow Dr. John Aguilar visited Yellowstone with Dr. Selde to lead trainings and see firsthand how the EMS system at the park operates.
"We inherited a very high-functioning EMS system that's very complex," said Dr. Selde, who completed a one-year EMS fellowship following his residency training at WMed. In addition to his duties at Yellowstone, Dr. Selde is a physician in the Department of Emergency Medicine at Sheridan Memorial Hospital in Sheridan, Wyoming, serves as EMS medical director for a number of Wyoming EMS agencies, and is a clinical assistant professor in the Department of Emergency Medicine at WMed.
"There are limited resources and Yellowstone is very rural," Dr. Selde added. "There are very unique challenges but it's a very high-functioning system and that is a credit to the former medical director, the past and current Yellowstone EMS leadership and the committed park administration."
During their visit in May, Dr. Aguilar said that he, along with Drs. Fales and Selde, learned more about the park's EMS system and worked with the park's EMS leadership to update protocols. They also participated in on-site training with Yellowstone National Park EMS personnel and were introduced to the high-quality EMS they provide to park visitors and residents. Drs. Selde, Fales, and Aguilar worked closely with Yellowstone EMS instructors and field providers during a series of in-person training sessions and saw up-close how Yellowstone's philosophy of training EMS personnel aligns closely with that of WMed, including the use of high-intensity medical simulation and the training philosophy of "practice doesn't make perfect, perfect practice makes perfect."
On average, providers in the park call for consults with an EMS physician approximately once a day during Yellowstone's busy season from May to October, said Dr. Aguilar, who completed his fellowship at WMed in June and is now working as a physician and medical director in Madison, Wisconsin.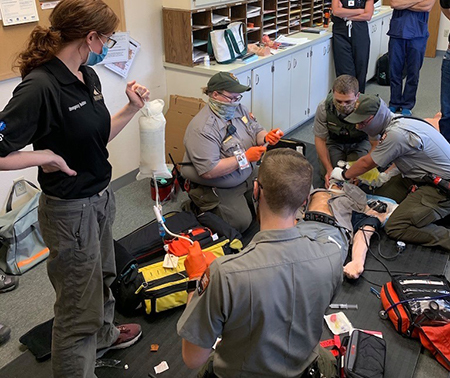 "From a functional relationship, it is a really good marriage since Yellowstone EMS is looking to constantly build and improve on an already well-functioning system in order to stay current with the latest EMS practices, which is what we do in Kalamazoo," Dr. Aguilar said.
In a given year, Yellowstone typically attracts 4 million visitors. Additionally, the park is vast in size and presents unique and common health hazards, making the need for an effective EMS system paramount. Yellowstone EMS includes both basic life support (BLS) and advanced life support (ALS) National Park Service personnel and the park maintains 10 ALS ambulances and two non-transporting ALS units, with essentially all law enforcement rangers carrying either BLS or ALS equipment.
Annually, Yellowstone EMS responds to more than 1,000 incidents that present a a wide variety of typical and unusual clinical conditions from heart attacks and broken bones to complex search-and-rescue operations to injuries from bison and elk encounters. 
Liz Hall, a paramedic and law enforcement ranger who worked at Yellowstone for five years, most recently as the park's acting emergency services program manager, said the EMS system at Yellowstone includes 198 providers during the summer with 10 ambulances that travel to 10 different receiving facilities in three different states. She said that providing emergency care in the field can be extremely challenging as the closest medical facility is more than an hour from Yellowstone and EMS calls for providers can often run four to six hours in length.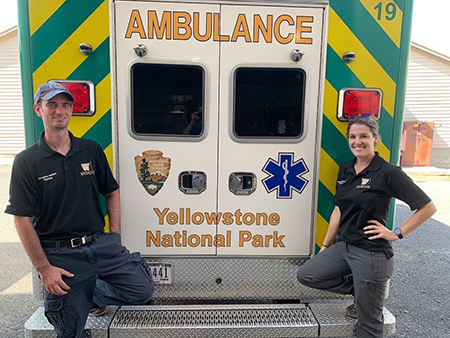 Given the challenges that providers in Yellowstone face, Hall said that the partnership with WMed is extremely important and will allow EMS personnel to continually learn while having the ability to consult with physicians at WMed who are on the front lines of emergency medicine.
"It will challenge us as providers and as a service to grow and stay on the cutting edge of emergency medicine," said Hall, who left Yellowstone in June to become the emergency manager at the Great Smoky Mountains National Park in her home state of Tennessee. "Our providers will have the levity and ability to ask questions and it is a huge benefit to have WMed providers come to the park with an advanced knowledge of care and educate us at a higher level. It helps us become more well-rounded and able to make better decisions."
Moving forward, Dr. Selde will work in collaboration with faculty, fellows, and residents from the Department of Emergency Medicine at WMed to provide 24/7 medical control consultations and direction while also assisting with on-site continuing education and a robust quality improvement program.
Since May, medical control consultations from Yellowstone have been routed to the on-call EMS physician at WMed through Kalamazoo's MEDCOM Center, which is operated by West Michigan Air Care. A newly acquired, sophisticated recording system allows for effective case reviews of communications between EMS field personnel at Yellowstone and medical control physicians from WMed.
Dr. Fales said the collaboration with Dr. Selde and Yellowstone EMS will serve WMed well as there are plans to create an elective rotation at Yellowstone for Emergency Medicine residents and fellows, as well as medical students. Most recently, in August, Dr. Sarah Gray, a third-year Emergency Medicine resident at WMed, completed an elective rotation at Yellowstone. EMS fellows are expected to accompany WMed faculty twice a year for on-site training at the park.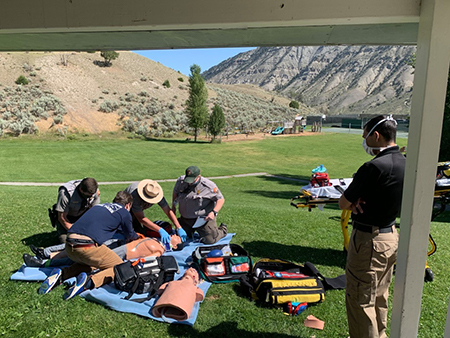 Additionally, in the next few months, Dr. Fales said medical control consultations will be transitioned to Emergency Medicine residents and fellows assigned to MSU-1, the EMS response vehicle, with backup and oversight from faculty in the Department of Emergency Medicine. Also exciting, Dr. Fales said, are the ongoing discussions about research opportunities for residents, fellows and students, from the analysis of the types of clinical events that occur in Yellowstone to proper treatment protocols for unique injuries such as bison gorings, among other topics. As the relationship with Yellowstone evolves, WMed will be exploring opportunities to provide similar medical control services in other national parks and to units of the U.S. Forrest Service. This will further expand opportunities for collaboration, education and research that will benefit WMed and the Interagency EMS Program of the National Park Service and U.S. Forrest Service.
"Providing remote medical control allows our residents to have immediate experience with complicated EMS incidents that are associated with a wilderness setting with particularly prolonged transport times," Dr. Fales said. "That's something they would not experience in a more urban setting like Kalamazoo. A lot of complex decision making takes place during those scenarios and it should provide a great experience for our residents."
At the same time, Dr. Fales said EMS personnel at Yellowstone will benefit from the new partnership with WMed as those providers will have the opportunity to develop close relationships with physicians in Kalamazoo "who really care about their practice of EMS in that very unique setting."
"Often times, EMS receives medical control from emergency physicians working in busy emergency departments who are challenged to provide the time for thoughtful and prolonged medical consultation," Dr. Fales said. "Having dedicated EMS physicians provides Yellowstone's paramedics and park medics with someone who is really dedicated and able to focus on the special needs of their patients."