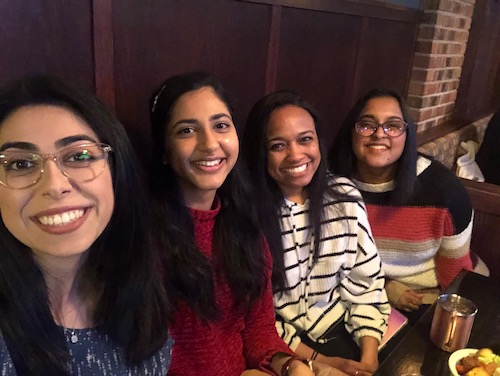 Four M4 students collaborated with medical school faculty to feature WMed cases on a global platform in August.
Mekala Neelakantan, Kathryn Jones, Jasmine Saeedian and Brinda Ryali connected with the Human Diagnosis Project, an open-access application that allows health care professionals to solve interactive clinical cases from all over the world.
"They reached out to us on Twitter asking if this was something that we'd be interested in bringing to WMed and having WMed showcase the case puzzles throughout the week," Neelakantan said. "We thought it would be good to showcase all WMed would have to offer."
The four WMed students showcased five different patient stories from the medical school's Internal Medicine, Medicine-Pediatrics and Pediatrics departments, and the peer-reviewed cases were published through the Human Diagnosis Project application in August.
Encouraged to participate in the project, each student worked with faculty members to choose their cases and each was supervised by faculty members including Dr. Prashant Patel, Dr. Nic Helmstetter and Dr. Kristine Gibson and several cases included residents Dr. Loren Weber and Dr. Ricardo de Castro. Neelakantan and Jones worked through pediatrics cases while Saeedian worked through internal medicine cases and Ryali worked a Medicine-Pediatrics case, Neelakantan said. 
"It was a really nice team effort and a great culmination because the four of us have become the best of friends in medical school and it was great to do a scholarly project together and bring the four of us together," Neelakantan said.
The students created the case and teaching point drafts, which were edited by WMed residents and faculty and peer-reviewed by clinician editors at the Human Diagnosis Project team. Those team members read the cases, offered feedback, and edited the cases, which were then published through the app as clinical puzzles for anyone in the global medical community to solve. 
In a piece-wise manner, app users receive clinical data such as historical elements, salient physical exam findings and lab results in order to develop a differential diagnosis and rearrange the differential diagnosis to solve the clinical puzzles. Following each case is a set of teaching points, summarizing the differential diagnosis and key elements of the final diagnosis.
"We were really enamored by the idea that this was an open access, free, global platform that allows physicians and students everywhere to work on," Neelakantan said. "We were able to collaborate with faculty physicians at WMed and all over the country, which made us realize what WMed has to offer and can provide an educational benefit to the greater medical community."
Neelakantan said while each student was a primary author on each case, the group worked together to edit the cases and as a team on the whole project. Neelakantan said the students couldn't have done the project without the encouragement and enthusiasm of WMed faculty members who participated. 
"It's good for all of us to have this experience – creating a case report and finding out what's important in finding a diagnosis. It was a really important exercise in us collaborating with physicians across the country and understanding what it means to be on this global team," Neelakantan said. 
Dr. Ricardo de Castro, a chief resident in WMed's Internal Medicine Department, said he worked with Jasmine and Ryali to sort through what information was most relevant for their cases, and with giving participants enough information to solve the case, but not too much.
"We gave a bunch of information so people should be able to reach a final diagnosis with the information we give them," Dr. de Castro said.
Dr. Kristine Gibson, the medical school's Assistant Dean for Clinical Applications and an assistant professor of Pediatric and Adolescent Medicine, worked with Jones on a case that had been her own patient several years ago. "It's a great opportunity for student to understand how medical curriculum gets developed, how to focus on salient pieces of a case," Dr. Gibson said. "It definitely helps them as they continue to move forward in their careers."
As future residents, the students will be part of morning reports and will have to give their own grand rounds presentations, so they will use these skills again and again in their careers, Dr. Gibson said. She said these students are active learners who found ways to continue to learn when the COVID-19 pandemic altered their usual medical school learning and clinical opportunities. Their advocacy and involvement in quality work led them to be invited to participate in the project, she said. 
"I'm really proud of our faculty and our students that were able to explore the areas they are passionate about and I think this is a manifestation of our students going deep into an area they are passionate about within medicine," Dr. Gibson said.
Dr. Patel, an assistant professor of Internal Medicine, said WMed's collaboration in the Human Diagnosis Project puts the medical school on the map with the unique case profiling done by the students, promotes creative digital scholarship and will allow learners around the country and world who use the application to promote their own continued education and, hopefully, look a little closer at Kalamazoo for their medical training.
Dr. Patel said the cases were an excellent dive into a globally-renowned digital format for clinical reasoning. He commended the students for being invited to participate in the project and for collaborating with faculty members and residents throughout WMed to make their cases stronger. 
Dr. Patel said the importance of the medical school participating in the Human Diagnosis Project transcends beyond the students and faculty members involved. 
"It's important that the Kalamazoo community sees the quality of teaching and learning we have at the medical school," Dr. Patel said. "By showcasing our cases on this worldwide application, the greater Kalamazoo community can see that we have the ability to treat complex cases right here in Southwest Michigan."