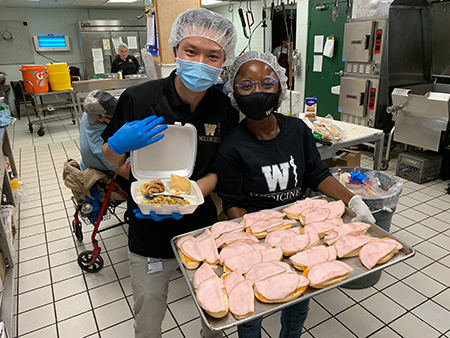 The medical school's newest students wrapped up a busy September with Day of Service and the capstone event for Medical First Responder training.
Day of Service took place over a period of two days – September 23 and 24 – as students from the Class of 2024 spent time helping and giving back at several sites throughout Kalamazoo and Southwest Michigan. The sites included the Cheff Therapeutic Riding Center, Family Health Center, the Gilmore Healing Centers, Habitat for Humanity, Kalamazoo Gospel Ministries, Loaves and Fishes, Urban Alliance, and YWCA of Kalamazoo.
The Day of Service focuses on the building of partnerships with community organizations and the development of teamwork skills and leadership. Students gain first-hand and up-close experience with the needs of the Kalamazoo community and the projects reflect the medical school's commitment to community service.
"It was a pretty interesting experience," said Lucas Bezerra, a first-year student who volunteered at the YWCA for Day of Service. Bezerra said he spent his time at the YWCA helping clear out and organize the organization's supply storage area.
"I've been in Kalamazoo for six years now so any chance I can help the community out, I value that," Bezerra said. "Kalamazoo means so much to me." 
Students took part in a number of activities as part of Day of Service. They got a chance to hear from leaders of several organizations, including Cradle Kalamazoo, Family and Children Services the Family Health Center, Kalamazoo Literacy Council, OutFront Kalamazoo, Urban Alliance, the YMCA and YWCA. They also helped out doing a number of things, including sorting and organizing clothing donations at Kalamazoo Gospel Ministries, as well as preparing and boxing up meals and assisting children at the mission with online school work.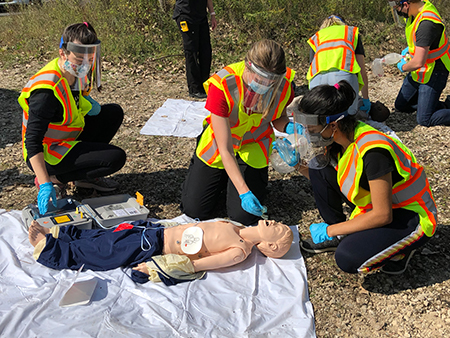 "Each of these tasks had an equal impact," said Matt Furrow, volunteer coordinator at Kalamazoo Gospel Ministries. "Getting help with clothing donations allows us to hand out these items for free or sell at low cost to those in need. Helping to prepare and hand out meals allows us to literally feed hundreds of people who aren't able to get a meal elsewhere. Those who assisted our children are helping to ensure they are still learning and growing even though our children aren't able to physically attend school. These are actions that have lasting impact and can literally alter someone's life for the better."
In addition to Day of Service, students from the Class of 2024 took part in the capstone event for Medical First Responder training on Friday, September 25. The all-day event was held at the Kalamazoo Regional Fire Training Center and consisted of several emergency scenarios, including a mass-casualty incident, a water rescue, a car extrication, and rappelling down a building.
First-year WMed students spend seven weeks on medical first responder training, which culminates with the MFR capstone event. The training qualifies students for state and national certification as medical first responders.
"Getting some hands-on experience with things that are commonly happening in the world gives us a lot of confidence to step into emergency situations and help out," M1 Chip Gauss said. "By getting all of this experience early on, we have something to use and help as soon as we start medical school."
MFR training begins for first-year students during their first week at WMed as part of the medical school's curriculum. The course equips students to respond when someone is ill or injured and provides them with instruction on basic procedures, including taking vital signs, CPR, bandaging and wound care and splinting, among other things.
"We really want students to come out of MFR knowing that medicine is a team sport, that even in high-stress situations the team can pull through together," said Dr. Bill Fales, professor in the Department of Emergency Medicine who leads the MFR course.