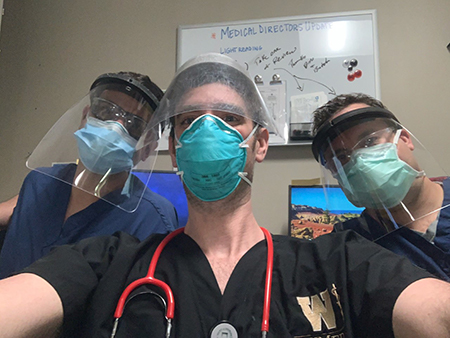 The WMed COVID 19 Response Fund was launched in 2020 as a tangible way for alumni, parents and friends of the WMU Homer Stryker M.D. School of Medicine to assist the medical school in keeping the students, faculty, staff, clinic patients and local community members safe from the Coronavirus.
Specifically, donations to this fund directly support the purchase of Personal Protective Equipment (PPE) to help reduce the spread of the virus, keep our front-line students and employees well protected, and to implement a wide variety of safety procedures and safety equipment.
The donations to the WMed COVID-19 Response Fund are used to purchase the following types of Personal Protective Equipment:
Hand Sanitizer 
N-95 Masks
Face Shields and Visors
Latex Gloves
Isolation Gowns
Scrubs

Shoe Covers
Plexi-Glass Partitions
Cleaning Supplies
Hand Sanitizer Stations
Sanitizing Equipment and Supplies for Classrooms, Clinical Facilities, Labs, and Study Areas
Additionally, donations to the WMed COVID -19 Response Fund support:
Education and Training for Medical Students, Faculty and Staff on Transmission Prevention Training
Testing for Medical Students, Residents, Faculty, Staff, Clinic Patients and the General Public
Please click the link below to make an on-line gift to support The WMed COVID-19 Response Fund now!
Ways to Make Your Gift. COVID-19 Response Fund donations may be made by any of the following methods:
Check
ACH checking account donation
Donor advised fund

Gift of appreciated securities
A rollover IRA
WMed Payroll Deduction Program.
For more information on the COVID-19 Response Fund, please contact: Jack Mosser, associate dean for Development and Alumni Affairs, WMU Homer Stryker M.D. School of Medicine, 1000 Oakland Drive, Kalamazoo, MI 49008, at jack.mosser@med.wmich.edu or 269.337.6335.
WMed is a 501(c)(3) non-profit organization. All donations are tax deductible to the full extent of the law.