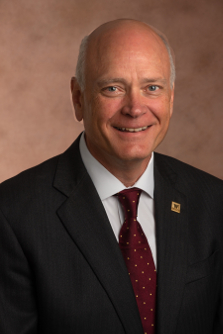 Over the last eight months, the COVID-19 pandemic has drastically changed day-to-day operations at WMed.
The entire medical school community – faculty, staff, students, residents, and fellows – have had to shoulder more responsibility while being agile, quickly adapting and finding solutions to unanticipated problems. Events and activities that allow us to gather, to celebrate, and mark a new achievement or success – have been postponed or canceled.
But through it all, the spirit of togetherness and mutual support at WMed has not waned, said Dr. Hal B. Jenson, the medical school's founding dean. In many ways, he said, the COVID-19 pandemic has brought about a heightened sense of awareness of the strong collaboration and teamwork that exist at the medical school. That teamwork has also allowed the WMed community to continue to provide outstanding patient care while keeping the careers of students, residents, and fellows on track, continuing to conduct research, and maintaining current positions and payroll.
Dr. Jenson said that spirit of camaraderie at WMed was as evident as ever in recent weeks as he and members of the medical school's senior leadership team – deans and department chairs – sought out a way to say thank you to employees for their hard work, extra efforts, and flexibility in the face of the COVID-19 pandemic.
What came from those discussions was the decision by Dr. Jenson, senior leaders, and faculty to forego an annual holiday bonus this year and repurpose budgeted funds for events and activities that were canceled because of the pandemic so that staff, residents, and fellows could receive a special, one-time financial bonus of $350 each.
"It just exemplifies the spirit of teamwork and togetherness," Dr. Jenson said. "I think that's the core message. The obstacles of life can sometimes be overwhelming and it is good for us to have a moment to recognize that there are a lot of people who care about us at work and are willing to make sacrifices for each other. 
"Recognizing that spirit, and the camaraderie that we share, and appreciating how much we care about one another helps us make it through the hard work that we do," he added. "I am grateful for the dedication and exceptional effort that has continued on behalf of our patients and their families, our learners, and each other."