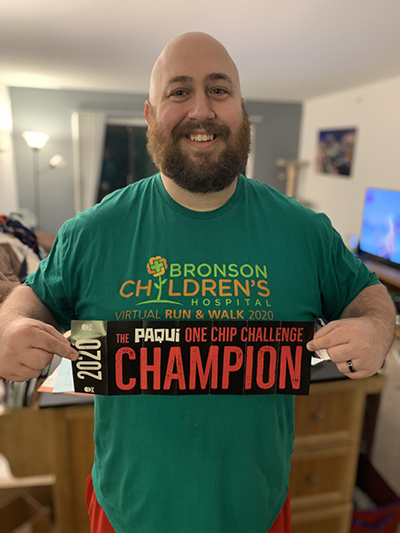 In September, during an inpatient rotation at Bronson Children's Hospital, third-year student Mark Canner entered a patient's room and found them passing the time playing games on a PlayStation 4.
The interaction brought a smile to Canner's face, serving as a tangible reminder of the positive impact of a holiday fundraiser he launched and led in 2019 to collect the PS4, a Xbox One, and new video games for the hospital's Child Life Program.
The experience also fueled Canner's desire this year to find a new way to give back and help children who come to Bronson for care and treatment.  
"I really think that community involvement and support is important and, for me, this is a way to give back to the community that is teaching me and allowing me to learn medicine," Canner said. "When I was on my inpatient rotation, it was so gratifying and cool to see that a patient was playing the PS4 and one of the games that was donated last year."
At the beginning of November, Canner launched his latest holiday fundraiser to collect new board games, card games, and coloring books for patients at Bronson Children's Hospital. His effort began simply enough with a GoFundMe page and he set up an Amazon Wish List, which allows donors to purchase items Canner has selected and have them shipped to the medical school's Office of Admissions and Student Life.
But Canner said a new and fun twist was added to this year's effort when Dr. Michael Mattia, a second-year resident in the Family Medicine residency program in Kalamazoo, approached Canner about incorporating the Paqui One Chip Challenge into his fundraiser.
As part of the One Chip Challenge, participants purchase a chip dusted with the world's hottest pepper, the Carolina Reaper, as well as Scorpion Pepper and Sichuan Peppercorn. Once they have the spicy chip in hand, they shoot video as they eat the chip and see if they can go a full hour without consuming any other food or drink to stave off the heat. 
Canner said Dr. Mattia had been planning to do the challenge with some of his fellow residents as a fun morale booster and thought it could serve as a way to increase interest in Canner's fundraiser.
"I thought it was a phenomenal idea," Canner said.
"The original idea was to have a little fun in the Family Medicine program in these times of COVID," Dr. Mattia said. "Combining the One Chip Challenge with the fundraiser seemed like a great way to get more people interested and increase participation for both causes. It's been fun to see how many people were willing to take on the chip in the name of raising money for this great cause." 
Since then, students, residents and faculty have signed up and agreed to take part in the One Chip Challenge as the fundraiser has hit different contribution milestones.
Canner, along with M3 Gordon Liu and M2 Samuel Farris, participated in the challenge together on Friday, November 20, and all three were able to make it the full hour without food or drink. 
On Wednesday, November 25, faculty from the Department of Biomedical Sciences – Drs. Tim Bauler, Kelly Quesnelle, David Riddle, and Greg Vanden Heuvel – also took part.
"I thought it was going to be worse," Canner said. "I love spicy food so it actually wasn't the most spicy thing I've ever eaten."
As of November 23, Canner had raised a total of $2,200 for Bronson Children's Hospital. If the fundraiser hits the $2,500 mark, an amount Canner said is "easily reachable," the next participants in One Chip Challenge will be Dr. Prashant Patel, an assistant professor in the Department of Medicine, and Drs. Kristi VanDerKolk and Theo Gomes, program directors Family Medicine-Kalamazoo and Medicine-Pediatrics residency programs, respectively.
Additionally, on December 11, Canner said seven residents from the Family Medicine residency program in Kalamazoo will take part in the One Chip Challenge.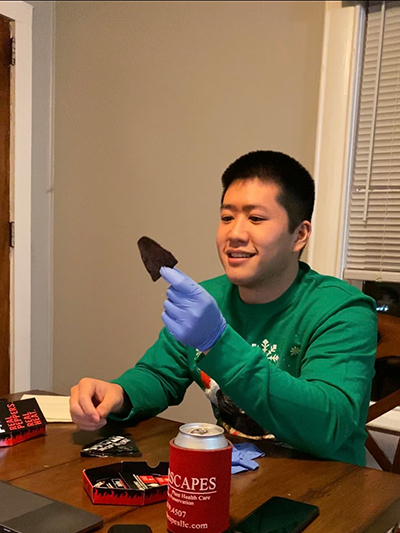 "It's been all in good fun," Canner said. "Once we started the donation push and the One Chip Challenge, donations have come in like crazy. It's been phenomenal and I am in shock of how much money we have been able to raise, and I'm super excited about everything we will be able to give at the end of this."
Canner said he is grateful to Dr. Mattia for his suggestion to use the One Chip Challenge as part of this year's fundraiser. Not only has the challenge helped boost donations, it also served as a way to involve the entire WMed community in the effort, he said.
"He has really helped me out with this and this fundraiser would not have been as successful without him," Canner said.
Canner said he is hopeful that others will be able to take part in the One Chip Challenge as new fundraising milestones are reached before the fundraiser concludes on December 18. For now, though, that will have to wait as the chips recently sold out on the Paqui website.
Either way, Canner said he and Dr. Mattia will work together after December 18 to deliver the haul of new board games, card games, and coloring books to Bronson Children's Hospital.
"I'm just hopeful that this can give patients a sense of home," Canner said. "If coloring helps them or they are able to find some solace in playing a card game or a board game while they are in the hospital, that's what I'm looking for."
If you would like to contribute to the fundraiser for Bronson Children's Hospital, you can do so on Canner's GoFundMe page or by buying an item from his Amazon Wish List.