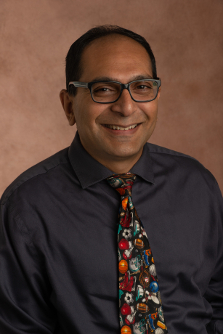 Since coming to WMed in 2017, Dr. Neelkamal "Neel" Soares has overseen the start and growth of the Division of Developmental-Behavioral Pediatrics within the Department of Pediatric and Adolescent Medicine.
At the WMed Pediatric Autism Center (WMedPAC), Dr. Soares is part of a group of care providers that also includes Roger Apple, PhD, division chief for the Division of Pediatric Psychology; Kenneth Holda, MA, and Kathryn White, MA. With the autism center's designation as the only Approved Autism Evaluation Center (AAEC) in Southwest Michigan, the team is able to provide evaluations for autism spectrum disorder to patients with Blue Cross insurances (BCBSM and BCN), as well as patients with the entire spectrum of insurances, private and public.
Now, Dr. Soares is putting his years of experience and expertise to use as one of the newest members of the Michigan Autism Council and the Board of Directors for the Society for Developmental & Behavioral Pediatrics (SDBP).
The new leadership roles, which became official in October, will serve as an opportunity to raise the medical school's profile on the national and international stage, Dr. Soares said.
"This validates that we are not just a local or regional entity in these fields," Dr. Soares said. "It will serve to attract quality practitioners and trainees because WMed is a place where faculty can have important roles in regional and national organizations."
As part of the Michigan Autism Council, Dr. Soares was appointed by Gov. Gretchen Whitmer to serve a four-year term where he will represent all health care providers from the across the state while advocating for the best interests of families who receive services from the Michigan Department of Health and Human Services (MDHHS). The council was established in 2012 and oversees the state's Autism Spectrum Disorders State Plan, which provides supports to people with ASD and their families through access to information and resources, coordination of services and implementation of evidence-based practices.
"I believe that I will be a strong advocate for families and providers, and this appointment will allow me to do that," Dr. Soares said. "It's very gratifying to be recognized by your peers and institutions to serve in this advisory role. I'm humbled and delighted to be a part of this because I think it's families that matter the most."
As part of his election to the Board of Directors for SDBP, Dr. Soares will serve a three-year term as one of six at-large members along with the organization's president, treasurer, president-elect, and past president. SDBP is an interprofessional organization dedicated to improving the developmental and behavioral health of children by providing exceptional leadership and promoting research, education, advocacy, and practice. SDBP advocates for an integrated approach to the biological, psychological, social, educational and cultural influences on children, youth, and their families.
Dr. Soares said the SDBP plays a key role in disseminating information about education, research and medical practice to Developmental and Behavioral Pediatrics practitioners from across the globe. SDBP also takes on numerous initiatives around such topics as diversity, equity and inclusion, keeping patients and families informed during the COVID-19 pandemic, and providing outlets for collaboration, among other things.
In his new role, Dr. Soares said he will get the opportunity to work closely as a liaison with the SDBP's practice and communications committees. Dr. Soares has been a member of SDBP since 1999 and has previously served as a committee chair and given presentations at numerous SDBP national conferences.
"SDBP is my professional society, it's my home," Dr. Soares said. "SDBP helps guide what we do and connect members from across the world. I'm committed to working with leadership, as well as the practice and communications committees, to ensure our goals move forward in a positive direction."
"WMed and WMed Health are setting the standard of care based on evidenced-based medical practice," said, Dr. Dilip Patel, professor and chair in the Department of Pediatric and Adolescent Medicine, "And the WMed autism program and developmental-behavioral program exemplify such high standards of care, consistent with the WMed core value of Strive for Excellence."