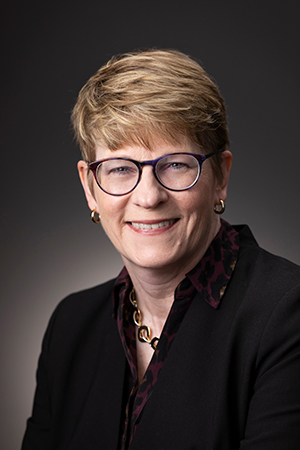 Paula M. Termuhlen, MD, FACS, professor of surgery and regional dean for the Duluth Campus at the University of Minnesota Medical School, will become the next dean of WMed on May 1. 
Her selection follows a national search to find a successor for Founding Dean Hal B. Jenson, MD, MBA, who will retire this summer after 10 years leading one of the nation's newer medical schools.
"Our comprehensive search process included more than 70 highly qualified individuals," said Western Michigan University President Dr. Edward Montgomery, who serves as chair of the medical school's Board of Directors and led the 13-member Dean Search Committee that helped to identify Dr. Termuhlen as the successful finalist. "The search committee selected four candidates for in-person and virtual visits in November and December that involved interviews by more than 100 stakeholders from across the institution. Dr. Termuhlen's leadership experience in academic medicine coupled with her interpersonal and relationship skills resonated with the medical school community and addressed the themes that emerged from the input gathered when the search process started early in 2020. We are confident she will be an exceptional leader for our institution." 
Dr. Termuhlen has been the regional dean for the Duluth Campus at the University of Minnesota Medical School since 2015, serving more than 130 students in their first two years of medical school and 50 faculty educators and scientists in the mission of training physicians for rural and Native American communities. Prior to that, she was a member of the faculty at the University of Nebraska Medical Center, Wright State University Boonshoft School of Medicine, and the Medical College of Wisconsin.  She served as a general surgery residency program director at Wright State University and the Medical College of Wisconsin. She was also vice chair of the Department of Surgery at Wright State University.  While at the Medical College of Wisconsin, she led the development team for the creation of two new regional campuses in Green Bay and Central Wisconsin.
"I am excited to lead WMed into the next era of strategic growth while continuing to foster a transparent and inclusive culture of excellence," Dr. Termuhlen said. "The medical school's first decade of success provides a solid foundation for building future innovations in medical education, patient care, research, and service. I look forward to working closely with students, faculty, residents, fellows, staff, and community partners to take the medical school to national prominence."
Dr. Termuhlen is a graduate of St. Louis University School of Medicine and completed her general surgery training at the University of Texas Health Science Center in Houston and a surgical oncology fellowship at MD Anderson Cancer Center. She is widely published in surgical oncology and surgical education. Dr. Termuhlen is a past president of the Association of Program Directors in Surgery and an inaugural member of the Academy of Master Surgeon Educators. Additionally, she has served in a variety of roles for the American College of Surgeons, Association of American Medical Colleges, Accreditation Council for Graduate Medical Education, National Board of Medical Examiners United States Medical Licensing Examination.  
To ensure a smooth transition for the next dean, Dr. Jenson provided two years of advance notice to the WMed Board of Directors regarding his plans to retire in 2021. 
"Since March 2011, I have had the honor and privilege of serving as the founding dean of WMed," Dr. Jenson said. "Over the past 10 years we have accomplished significant milestones and achieved many firsts as a new medical school, including full accreditation from the Liaison Committee on Medical Education and the Higher Learning Commission. Beyond institutional accreditation, our education, research, and clinical programs have achieved a multitude of accreditations and certifications that attest to the excellence of all of our programs. Our success as a medical school is a community success. I hope you share the same sense of accomplishment that I have for the medical school that we, together, have created."
In honor of Dr. Jenson's retirement and to celebrate the first 10 years of accomplishments at the medical school, a virtual event, "WMed Live – A First Decade of Celebration," is planned for May 27, 2021 from 3:30 to 5:00 p.m. The event will be open to the community, but registration will be required at https://med.wmich.edu/WMedLive2021.