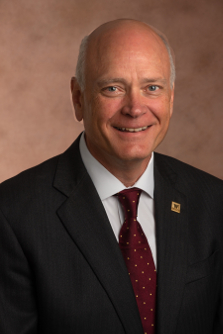 As he prepares for retirement this summer, to leave an institution he has led for the last decade, Founding Dean Dr. Hal B. Jenson does so filled with pride about the accomplishments in medical education and research. 
"Those accomplishments are the outcome of the tremendous amount of work by the faculty, staff, and students at the medical school," Dr. Jenson said. "Everyone at the medical school is part of our success, and we share that success with the community as a community success."
Those accomplishments, he said, have been numerous and substantial. More significantly, they have been transformational and will have a lasting impact on our hospital affiliates, WMU, the entire WMed community and the surrounding community as a whole.
"When I came to Kalamazoo in 2011, I had a long list of objectives for the medical school, not just to meet the minimum requirements but to excel as a medical school," Dr. Jenson said recently. "We've successfully achieved all of those objectives, and successfully made the transition from a new medical school to a mature institution. We have made the journey to a fully accredited medical school as fast as it could have been achieved. But just as importantly has been the way we have meet those goals. Many accreditation site visitors over the years have expressed a bit of surprise about the exceptional quality of our programs, not just by comparison as a 'new' medical school but compared to all medical schools."
That process, that 10-year journey, has been marked by several milestones in the area of medical education, Dr. Jenson said. Those milestones have included:
The creation of a comprehensive MD curriculum that seamlessly integrates basic science and clinical applications, as well as a strong focus on interprofessional education with other healthcare professionals.
A state-of-the-art, 24,000 square-foot Simulation Center at the W.E. Upjohn M.D. Campus that is a premiere facility that provides "robust educational and training activities for our students and residents, and healthcare professionals from Kalamazoo and surrounding communities in Southwest Michigan."
Exceptional success at preparing medical students for residency training, an achievement backed by a 100 percent match rate for WMed's first three classes of new physicians. "Our students are excelling on the USMLE Step 1 and Step 2 exams and they are matching into very good and very competitive residency programs," Dr. Jenson said.
Impressive growth in graduate medical education, including two new residency programs – Family Medicine in Battle Creek, and Obstetrics and Gynecology – and the addition of new fellowships in Emergency Medical Services, Forensic Pathology, Hospice and Palliative Medicine, and Simulation.
The creation of two new master's degree programs:

A Master of Science in Medical Engineering degree program created in collaboration with the College of Engineering and Applied Sciences at Western Michigan University that provides an experiential, hands-on curriculum for students.
A unique Master of Science in Biomedical Sciences degree program that helps aspiring physicians make the successful transition from undergraduate education to medical school and providing an opportunity for students from all backgrounds.

A broadening of the WMed campus beyond Kalamazoo through the expansion of international health experiences for students and residents in places like India and Peru, among others.
A continuing education program that has grown in size and scope and achieved the status of Joint Accreditation for Interprofessional Education that includes Accreditation Council for Continuing Medical Education (ACCME), the Accreditation Council for Pharmacy Education (ACPE), and the American Nurses Credentialing Center (ANCC), to provide interprofessional continuing education for the healthcare team.
"A theme is that there has been a lot of creation, and changes in the size and scope of programs over these last 10 years," Dr. Jenson said. "But what may not be as apparent is the high level of quality and excellence, and the ongoing continued improvement, of the medical education that we are providing."
At the same time that medical education has grown and evolved at WMed, so too has research. Dr. Jenson said fostering innovation and discovery at the medical school is evidenced by the growth of activities in basic laboratory research as well as clinical, community-based, and educational research.
"Research is a critical part of any medical school in providing an environment where there is a spirit of discovery and innovation to solve problems," Dr. Jenson said. "We have physicians as part of the medical school who provide outstanding care for today's patients. We train students and residents to provide outstanding care for the next generation of patients. Our discoveries and innovations will provide outstanding health for all generations of patients."
The strides that have taken place at the medical school over the past 10 years to foster research have included:
A $10 million renovation of two floors for laboratory research at the W.E. Upjohn M.D. Campus that was competed in 2016. The space now houses state-of-the-art laboratories and equipment.
The building of a solid base for continued growth in laboratory research with the recruitment in 2016 of Dr. Thomas L. Rothstein, chair of the Department of Investigative Medicine. Dr. Rothstein has recruited several outstanding faculty researchers who are recipients of prestigious NIH grants.
The integration of clinical research in the community between Ascension Borgess Hospital, Bronson Methodist Hospital, and WMed with the creation of the WMed Center for Clinical Research.
The integration of the Innovation Center into the medical school to support translational research across the spectrum of bench-to-bedside.
The creation and growth of the Sponsored Programs Administration (SPA) at WMed, as well as a single Institutional Review Board as part of the Human Research Protection Program, which is fully accredited by the Association for the Accreditation of Human Research Protection Programs (AAHRPP). to support research activities at the medical school.
The development of a state-of-the-art vivarium and animal care program that is accredited by the AAALAC International Council on Accreditation.
The integration of community-based research principles in the MD program that allows students to engage with local organizations and affiliates to help meet community needs.
Faculty who are recognized as thought leaders in medical education both nationally and internationally because of their roles in creating and developing the medical school's state-of-the-art curriculum.
The development of a biomedical informatics program and a newly created Department of Biomedical Informatics that equips students and faculty with the ability to conduct important research and solve problems using electronic health records.
The development of toxicology research in collaboration with Sparrow Hospital in Lansing, which provides research and laboratory opportunities for learners at the medical school.
Dr. Jenson said he is proud of these accomplishments over the last 10 years. He is also looking forward to watching the medical school grow in the future as the conclusion of his time at the helm of the medical school draws closer.
"The most important period for any medical school is always the next five years," Dr. Jenson said. "Wherever you are in your journey, it's really about doing what needs to be done now and in the future to become even better."