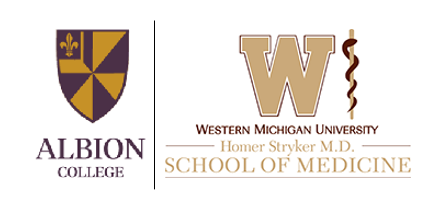 WMed has entered into a unique partnership with Albion College, one of the top 50 innovative liberal arts colleges in the country, offering students an eight-year educational program. Students have the opportunity to receive a Bachelor of Arts (B.A.) from Albion College and a Doctor of Medicine (M.D.) from WMed with acceptance into both degree programs directly from high school. The program provides enrichment opportunities for students during their years at Albion College where they must meet and maintain program standards to advance to the M.D. degree program.
The collaboration has two components: first, to establish the Albion College and WMed Joint Admissions Program, which admits exceptionally qualified high school seniors from diverse backgrounds into both Albion College and WMed at the same time for a B.A. degree from Albion and an M.D. degree from WMed; and second, to establish a preferred relationship between Albion and WMed that allows all qualified Albion students to participate in the WMedStart early decision program. 
"Since the pandemic began, we've seen significant increases in students looking to enter the medical field and serve their communities. Putting that sense of public purpose into action is what an Albion education is all about," said Dr. Mathew Johnson, Albion College President. "Albion College is leading the way in premedical education, with an almost 100% success rate among Albion students seeking acceptance into medical school. We are thrilled to build on this with the launch of a collaborative relationship with WMed to create even more opportunity for the next generation of physician leaders. As a key driver in the diversification of the medical student population at WMed, Albion College is living out our commitment to belonging by creating and sustaining impactful opportunities for all students. These future physicians should be just as diverse as the communities they work with."
Albion College embraces not just diversity, inclusion and equity, but true belonging. In the last 10 years, Albion has undergone a dramatic change to welcome a more diverse and inclusive student body. The percentage of students at Albion that identify as students of color has increased from 18% in 2013-14 to 41% in 2019-20. More recently, Albion has invested in the creation of the Cutler Center for Student Success and Academic Achievement, and has been awarded a Department of Education TRiO grant to support the success of underrepresented and first-generation students many of whom are interested in our STEM, premedical and health related pre-professional programs. This program also supports WMed's mission to build a diverse and inclusive environment that serves the medical needs of our communities – specifically those from underrepresented groups in medicine (African American, Hispanic, and Native American).        
While at Albion College, students will develop cultural competence, communication skills, teamwork skills, and social skills through meaningful community engagement. Albion students accepted into the program will attend the Lisa and James Wilson Institute, a national leader in premedical education. The Wilson institute, named after gene therapy pioneer and alumnus James Wilson, '77, prepares students to become altruistic leaders in healthcare through an innovative academic curriculum and immersive clinical, research, and community engagement initiatives. At WMed, students will benefit from learner-centered medical education as they become leaders in the medical field. 
"Albion College's liberal arts education produces thoughtful and inquisitive students with a diverse set of skills who are able to think beyond traditional classroom instruction--all aspects that create successful medical students," said Dr. Hal Jenson, Founding Dean of Western Michigan University Homer Stryker M.D. School of Medicine. "At WMed, we prepare students for the medical profession by elevating learning opportunities, and this program is in alignment with that vision."