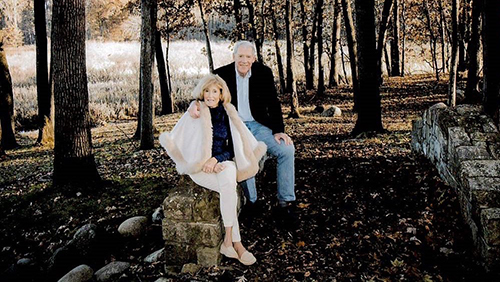 Since 2013, when she began the work that led to the launch of the Kalamazoo Collaborative Care Program, Susan C. Brown has been buoyed and encouraged by the success of the initiative and the immense progress that has been made in enhancing access to quality mental health services and reducing the stigma for those who seek help for mental illness.
A team-based mental health services model is now in place at WMed Health and several other clinical practices for adults and children in Kalamazoo, allowing for the coordination and integration of primary care and mental health services in one setting. A collaboration involving KCCP, Bronson Healthcare, the University of Michigan, and Blue Cross Blue Shield of Michigan is helping train social workers to be a part of the clinical care team and help detect and address anxiety and depression in patients young and old.
So, when that palpable momentum was threatened recently by funding concerns, Susan Brown and her husband, Bob, stepped in in December with a generous $200,000 gift to WMed that will help sustain the efforts of KCCP. The Browns' family foundation, the Monroe-Brown Foundation, also gave an additional $25,000 to KCCP.
"I can just tell you that we knew we had to do this right now or all of our work and momentum could be stopped and we are in such a great place and really in a high gear," Susan Brown said.
Ensuring that the work of KCCP continues comes at a critical time, Brown said. Depression is the leading cause of disabilty in the world, costing billions of dollars per year of lost productivity in the U.S. Even more, the COVID-19 pandemic has led to a spike in depression and anxiety as people deal with the widespread effects of social isolation, job loss, homelessness and burnout for front-line healthcare workers, among many other things.
"The pandemic has shown us that there are more and more people who need mental healthcare," Brown said. "We couldn't wait. We knew there was no better time than now and I was getting lots of phone calls from people who were desperate and didn't know where to go."
The KCCP was established following the deaths of two of Susan Brown's friends – Jim Field and Tom Harding – who lost their lives to suicide. The tragedies brought into focus the urgent need for early recognition and intervention for depression to prevent future tragedies in Kalamazoo, which Brown learned had a higher-than-average rate of suicide. 
In response, Brown rallied the financial support of numerous friends, community leaders and community foundations to join with her in combatting what she saw as a community-wide problem. In 2012, she and Bob hosted a gathering for their grieving friends and, with the help of John Greden, MD, founder and executive director of the University of Michigan Depression Center and founding chair of the National Network of Depression Centers, sponsored a large dinner where each person in attendance donated $1,000 to fuel the launch of the KCCP and its plan to combat mental illness.
Additionally, a core group that included representatives from WMed, Ascension Borgess, Bronson Healthcare and Kalamazoo Community Mental Health, and others was formed. At the same time, Brown worked with U-M, her alma mater, and funded a pilot study from the U-M Depression Center to find ways to address the need for more psychiatrists and increased access to mental healthcare in Kalamazoo.
That pilot study conducted by U-M identified a plethora of deficiencies and needs in Kalamazoo, including a marked shortage of psychiatrists and an associated lack of access to mental health services across all ages and segments of the community, as well as a need for improved outpatient mental health services. That prompted the launch of the KCCP.
The KCCP officially began in 2015 and by 2018 the first clinic utilizing the program's model of team-based care opened. A second clinic opened in 2019. The overall effort has proven successful, leading to an overall decrease in depression and anxiety for patients who were enrolled in the KCCP.
Today, the program has entered its second phase known as the Kalamazoo Collaborative Care Model 2020 and the program is being led by a steering committee that is made up of community stakeholders, community mental health leaders, and physicians and staff from WMed, including KCCP Manager Holly Ramsdell and Drs. Rajiv Tandon, chair of the Department of Psychiatry at WMed, David Dunstone, and Perry Westerman, program director of the medical school's Psychiatry Residency Program. Dr. Tandon said KCCP is forging ahead with what is being referred to as "The Kalamazoo Commitment: Quality Mental Healthcare for All."
In late 2019, a substantial gift was given to WMed in honor of Susan Brown to form the Geriatric Psychiatry Endowed Fund at the medical school. The gift came from Rosemary and John W. Brown, two well-known Kalamazoo philanthropists who are close friends of the Browns.
Dr. Tandon said the work being done by KCCP is having a marked impact on increasing and improving access to quality mental health care for the entire Kalamazoo community. Of note, he said the KCCP model of care has expanded to WMed Health Pediatrics and, with the help of Bronson Healthcare CEO Bill Manns,to some Bronson pediatric clinics and five adult clinics. He said the Department of Psychiatry is also in the process of hiring two new child psychiatrists as part of the ongoing effort and mission around KCCP.
"This gift from Susan and Bob will help sustain that spark," Dr. Tandon said. "There is a long way to go but this is exciting and there is something happening and it is growing."
As part of the continuing work around KCCP, Dr. Tandon said there is much to be done in the area of mental health awareness to combat stigma while also providing enhanced awareness of the resources that are available to those in need of mental healthcare. To that end, Dr. Tandon said the KCCP steering committee is working to put together a mental health resource directory for the community and planning mental health awareness events for later in 2021.
Dr. Tandon said none of the work that is being accomplished through KCCP would be possible without Susan's Brown's passion and dedication.
"What's really incredible is that she has, with a close group of friends, been the principal driver of sustaining the effort in drawing interest and awareness to the need for quality mental health resources for the citizens of Kalamazoo County," Dr. Tandon said. "She really sustains my sense of hope and enthusiasm. I think the need here is huge and the possibilities are enormous.
"There's a long way to go but I'm hopeful that Kalamazoo, in the not-so-distant future, will have a really top-notch mental healthcare system and that WMed along with a number of key partners will be a key part of providing everyone easy access to quality mental healthcare," Dr. Tandon added. "When that happens, I think Susan and Bob will be forever known as the builders of the foundation of that success."
In addition to the Browns, Dr. Tandon also praised the efforts of WMed faculty and staff who have played key roles in making KCCP a success, namely Ramsdell and Dr. Westerman.
"Holly has made incredible contributions and her efforts, her dedication, and her relationships and commitment to KCCP shows in terms of these results," Dr. Tandon said. "And Dr. Westerman has been a constant who is strongly invested in KCCP because it is near and dear to his heart. The successes we've seen through KCCP are really a coming together of the important work that has been done by Susan, Holly, and Dr. Westerman."
Moving forward, Susan Brown and Dr. Tandon said they are focusing on efforts to sustain KCCP in perpetuity.
"It's been so gratifying," Brown said. "I've gotten so much pleasure from being able to see this program on its feet because I know that so many people need help and mental health is an integral part of physical health. Collaborative care is the way of the future. 
"We've got to keep the momentum going."
To learn more about the Kalamazoo Collaborative Care Program, please visit https://med.wmich.edu/kccp.