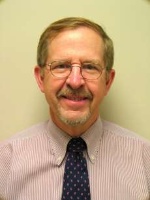 WMed Health is expanding its obstetrics and gynecology services to treat high-risk pregnancies in its new Maternal Fetal Medicine practice.
It's an expansion that meets a community need and provides a logical next step to the medical school's Obstetrics and Gynecology residency program and OB-GYN practice, established in 2017 by Debra Taubel, MD, chair of the medical school's Department of Obstetrics and Gynecology.
Leading the new practice is Robert Austin, MD, a board-certified maternal fetal medicine specialist who joined WMed Health in January. He has spent more than 30 years treating high-risk pregnancies, most recently retiring from Bronson Maternal Fetal Medicine Specialists in 2020. Dr. Austin earned his medical degree from Wayne State University School of Medicine. He completed his residency in Obstetrics/Gynecology at Providence Hospital in Detroit and completed a fellowship in Maternal and Fetal Medicine at the University of Chicago.
"One of the realizations we had very early on was our patients wanted to come here for care, however we weren't equipped to handle the complications involved with all pregnancies," Dr. Taubel said. "In order to provide them with the standard of care needed we needed to expand our services to someone who can handle high-risk pregnancies and that's where Dr. Austin came in."
The clinic expansion streamlines care for WMed Health patients and allows them to be seen sooner than if they were referred to other practices, Dr. Taubel said. Adding the service also allows for more educational opportunities for obstetrics and gynecology residents and medical students and more opportunities for them to complete good patient care, she said. 
"Having a high-risk physician here is good for our patients and their well-being in general," Dr Taubel said. "If you're diagnosed with a high-risk condition, to get an expedited appointment within a week in a place you know with people you know, that's essential. Having that available is going to be a game changer for a lot of our patients."
The new practice provides expanded OB-GYN services, including sonograms, diabetic counseling and genetic testing, and monitors pregnancies that have complications such as gestational diabetes, chronic hypertension and lupus.
Dr. Taubel and Dr. Austin expect about 25 percent of WMed Health's OB-GYN patients will benefit from the expanded Maternal Fetal Medicine services, along with patients who are referred from the Family Health Center in Kalamazoo and Ascension Borgess.
Dr. Austin sees Maternal Fetal Medicine patients Tuesday afternoons at WMed Health, 1000 Oakland Drive. The practice is accepting new patients, but a physician referral is required. Patients can call 269.337.6075 for more information.