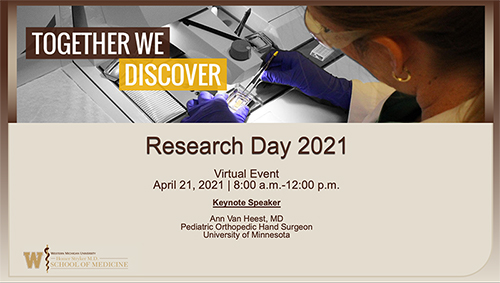 The 38th Annual Kalamazoo Community Medical and Health Sciences Research Day will be held Wednesday, April 21, 2021, in a virtual format.
The annual event recognizes a proud tradition of medical and health sciences research in the Kalamazoo community. Research Day offers time to celebrate the richness and diversity of research in the local medical community.
This year, Research Day 2021 will be a one-day virtual event running from 8 a.m. to noon, with posters being presented online as ePosters and oral presentations being presented online as ePresentations. Attendees will be able to ask questions of presenters via live chat, and ePosters and ePresentations will remain accessible to attendees for 30 days after the meeting.
Ann Van Heest, MD, who is a pediatric orthopedic hand surgeon at the University of Minnesota Department of Orthopaedics and Shriners Children's Twin Cities, will be the keynote speaker at Research Day. Dr. Van Heest serves as a professor in the department of orthopaedic surgery at the University of Minnesota School of Medicine. Her areas of special interest are hand and upper extremity, with special areas of interest in arthrogryposis, cerebral palsy, birth brachial plexus injuries, as well as congenital hand differences, such as syndactyly, polydactyly and hand deficiencies.
"Research Day is a highlight for our students, residents, and faculty to present their results, so having to cancel Research Day last year was very disappointing," said Greg Vanden Heuvel, PhD, the medical school's Associate Dean for Research. "During the last year we have adjusted to a virtual learning environment and we are excited to be able provide researchers the opportunity to share their results virtually."
As Research Day approaches, here are some upcoming deadlines and dates to be aware of:
Monday, February 1, 2021 – Online form opens for abstract submissions at 8 a.m. 
Sunday, February 28, 2021 – Deadline for abstract submission at 11:30 p.m.
For more information about Research Day, please visit the Research Day webpage.