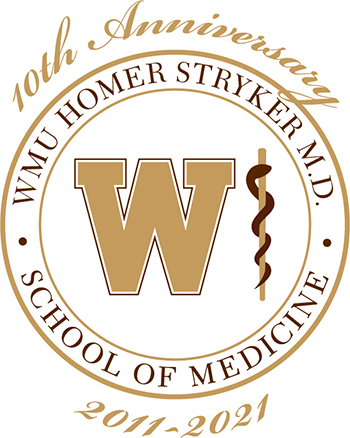 WMed is set to host a community-wide 10th anniversary gala - WMed Live: A First Decade Celebration. The virtual event will feature renowned celebrities and national leaders from medicine, television, music, and a wide variety of entertainment fields to showcase how the medical school – under the leadership of Founding Dean Dr. Hal B. Jenson - has enhanced the quality of life in Kalamazoo through community service and educating the next generation of physicians.
Taking place on Thursday, May 27, 2021, from 3:30 p.m. to 5:00 p.m., this live virtual event will highlight the medical school's 10-year anniversary and honor Dr. Jenson's legacy of leadership on the occasion of his retirement. WMed Live invites members of the community to gather with us virtually and enjoy entertaining segments from internationally acclaimed celebrities, talented local performers, and special appearances from community leaders – all the while raising much needed funds for the mission of the medical school.
Hosted by Mr. William D. Johnston and Mrs. Ronda Stryker and Mr. William U. Parfet and Mrs. Barbara Parfet, the live-streamed event will showcase an overview of WMed's economic impact on Kalamazoo and its landmark accomplishments over the past 10 years. The event will include a keynote address from David J. Skorton, MD, president of the Association of American Medical Colleges (AAMC). Kalamazoo business, civic, and philanthropic leaders will also pay special recognition to Dr. Jenson for his distinguished service and legacy of leadership.
WMed's Imagine Gala, the school's annual signature black-tie fundraising event, could not be offered this year due to the public health limitations to prevent the spread of COVID-19. WMed Live will be an exciting new innovation in gathering the community and WMed stakeholders while allowing for many more participants, including an audience from around the country. 
"WMed Live is the 2021 Imagine Gala in an exciting and innovative new format," said Jack Mosser, associate dean for Development and Alumni Affairs. "This year, you don't have to wear a fancy dress or a tuxedo to attend. Anyone can participate – in their scrubs at work or in the comfort of their own home. We want the community to join us in the celebration of our 10th anniversary, to honor our Founding Dean for his extraordinary decade of leadership, and to come together to help advance the mission of Kalamazoo's medical school."
It's been an astonishing decade of achievement for WMed, thanks to the generous support of the medical school's many philanthropic partners in the community. However, much work remains to be done. WMed Live is proud to share that this year's gala will have three presenting sponsors – Ascension Borgess, Bronson Healthcare, and Western Michigan University. Additional VIP sponsorship and underwriting opportunities ranging from $1,000 to $25,000 are still available. WMed Live will give sponsors the opportunity to showcase their commitment to medical education, medical research, and quality patient care in Southwest Michigan. A compelling aspect of this year's gala will be the opportunity to support medical school programs to achieve equality in healthcare resources in our community and the development of diversity, equity, and inclusion initiatives to educate a more diverse group of future physicians. Individuals, businesses, or foundations interested in becoming a WMed Live sponsor should visit med.wmich.edu/wmedlive2021/sponsors. 
On the day of the event, WMed Live can be viewed live at med.wmich.edu/wmedlive2021, however, pre-registration is encouraged to receive updates on the program and get information on special celebrity appearances at the event. Those that register ahead of time may also choose to make a donation to the medical school in Dean Jenson's honor and include a congratulatory message to him on the registration form. Whether you register for a free ticket to the event or become a VIP Sponsor, this is an event that you simply won't want to miss. Be a part of WMed history by registering and participating in our 10th anniversary live virtual gala! For more information, please contact Lori Larsen, manager of Annual Giving and Alumni Engagement at 269.337.6575 or by e-mail at lori.larsen@med.wmich.edu.