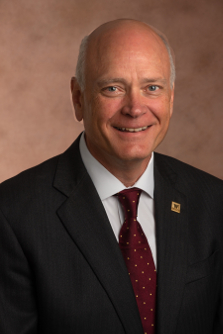 This year, 2021, is another significant milestone for WMed as we celebrate the 10-year anniversary of the medical school. I started in my role as the medical school's founding dean in March 2011. For the past 10 years, together we have progressed through a series of "firsts" in our development followed by accomplishments in all of our strategies – medical education, clinical care, research, community service, economic stewardship, and culture. 
We have achieved tremendous success during our first decade because of the active engagement of our faculty, staff, residents, fellows, students, and the broader medical school community.  We are fulfilling our mission to educate and inspire lifelong learners as we aspire to achieve our vision to be a national leader among medical schools. 
It has been my honor and privilege to serve as the medical school's founding dean. On May 3, the medical school welcomes Paula M. Termuhlen, M.D. as the new dean following my planned retirement. She is a brilliant surgeon and academic leader who will continue to build on our legacy and take the medical school to even greater levels of national distinction. Please join me in welcoming Paula to WMed.
All of our accomplishments over this first decade are the result of the vision and generous contributions from our community donors coupled with the dedication and tireless effort of our faculty, staff, residents, fellows, and students. It has been the opportunity and honor of a lifetime for me to have worked with so many talented, dedicated, and caring individuals.
WMed is extraordinary. Thank you for letting me be a part of this amazing medical school.