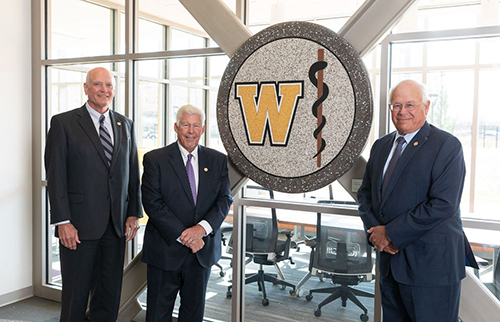 WMed invites the community to join in celebrating the 10th anniversary of the founding of the medical school. We will mark the occasion with WMed Live: A First Decade Celebration on Thursday, May 27. The live virtual gala kicks off at 3:30 p.m. with a pre-show followed by a content-rich, one-hour program celebrating milestones achieved in the medical school's first 10 years. The event will be hosted by Kalamazoo philanthropists William D. Johnston and Ronda E. Stryker and William U. Parfet and Barbara Parfet.
The gala pre-show will feature an exciting lineup of world-class entertainment. Attendees will be treated to a musical performance by Kenny G, as well as special messages from Grammy-winning musical artists Paula Abdul, Ne-Yo, and TG Sheppard. WMed Live will also feature original performances by Western Michigan University's Gold Company, HeART of WMed student entertainers, and WMU student dancers. The emcees will announce prize giveaway winners throughout the show for attendees that have pre-registered.  
The main program begins at 4:00 p.m. and attendees will embark on an exciting journey recounting the fascinating impact of the medical school during its first decade. Founding Dean Dr. Hal B. Jenson, will be honored on the occasion of his retirement by special guests like Dr. David Skorton, president of the Association of American Medical Colleges (AAMC), and other business, civic and philanthropic leaders from across Southwest Michigan. There will also be a virtual fireworks show to welcome our new dean, Dr. Paula Termuhlen.

"Gifts to this year's medical school gala will focus on creating programs that demonstrate the core values of diversity, equity, and inclusion which are critical in preparing medical students to meet the needs of an increasingly diverse patient population and helping to eliminate health disparities within our national healthcare system," Gala Co-Chair William D. Johnston said. "Ronda and I are truly delighted this year's gala donors are stepping forward to help to fund initiatives to extend the national impact of the medical school. The more diverse the students we educate, the better prepared the graduates of the medical school will be to serve the diverse medical needs of our nation."
Donations to support the WMed Next Decade Fund are encouraged, however participation in the live virtual gala is offered free-of-charge. Financial support to The WMed Next Decade Fund in honor of the medical school's 10th anniversary will extend the reach of the medical school by helping to support medical student scholarships, providing opportunities for our resident physicians, removing barriers to health equity, and advancing the health and well-being of everyone in the Kalamazoo region. 
Take part in WMed Live by registering for the event or by making a donation at med.wmich.edu/WMedLive2021.