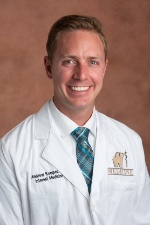 Andrew J Koelper, DO
Instructor, Department of Medicine
---
Biosketch
Andrew Koelper, DO, is a resident physician in the Internal Medicine Residency Program at Western Michigan University Homer Stryker M.D. School of Medicine. He graduated from Butler University, Indianapolis, IN with a BA in Chemistry before attending medical school at Marian University College of Osteopathic Medicine. His career interests include medical education and a life of service as a hospitalist.
Education and Training

DO 2021, Marian University
BA 2017, Chemistry, Butler University

Research

service leadership
Medical Education

Publications

Bassett B., Waibel B., White A., Hansen H., Stephens D., Koelper A., Larsen E.M., Kim C., Glanzer A., Lavis L.D., Hoops G.C., Johnson R.J. Measuring the Global Substrate Specificity of Mycobacterial Serine Hydrolases Using a Library of Fluorogenic Ester Substrates ACS Infectious Diseases. 2018;4(6):904-911.

White A., Koelper A., Russell A., Larsen E.M., Kim C., Lavis L.D., Hoops G.C., Jeremy Johnson R. Fluorogenic structure activity library pinpoints molecular variations in substrate specificity of structurally homologous esterases Journal of Biological Chemistry. 2018;293(36):13851-13862.

Jeremy Johnson R., Applegarth J., Bennett S., Caskey S., Coatney C., Corsbie K., Cotter A., Cotter D., Coulis A., Hansen H., Hart W., Koehler C., Koelper A., Kuhlman S., Mitchell C., Moskal B., Murfield O., Paton A., Schemenauer D., Stankavich B., Taylor C., Waibel B., Williams L.D. Proteopedia entry: G-protein coupled receptors Biochemistry and Molecular Biology Education. 2017;45(3):277-278.