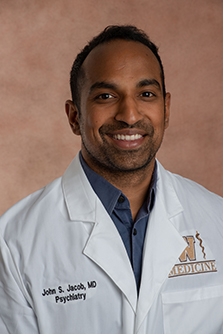 A physician who completed his Psychiatry residency training at WMed in 2019 is the medical school's newest faculty member.
John S. Jacob, MD, joined the Department of Psychiatry as an assistant professor and pediatric and adolescent psychiatrist on June 28. 
Dr. Jacob earned his MD degree from American University of the Caribbean in 2016 and then came to Kalamazoo where he completed his four-year residency in Psychiatry at WMed. In 2017, Dr. Jacob was awarded the Borgess Service Excellence Award for patient care.
After residency, Dr. Jacob went on to the University of Texas Southwestern School of Medicine where he completed a two-year fellowship in Child and Adolescent Psychiatry.
Dr. Jacob is a 2010 graduate of Michigan State University where he earned bachelor's degrees in Physiology and Philosophy.