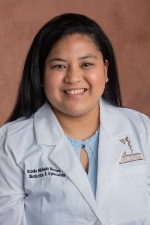 Isabelle Michaela Perez Nievera, MD
Instructor, Department of Obstetrics and Gynecology
---
Contact Information
Patient Care Related:
Obstetrics and Gynecology, 269.337.6075
Biosketch
Isabelle Nievera, MD, is a resident physician in the Obstetrics and Gynecology Residency Program at Western Michigan University Homer Stryker M.D. School of Medicine. She is a graduate of the University of California Los Angeles. She earned her medical degree from the University of Missouri-Columbia.
Education and Training

MD 2021, University of Missouri-Columbia
BS 2014, Neuroscience, University of California-Los Angeles (UCLA)

Research

Sex development disorders
Pediatric Obesity

Publications

Williams A., Turer C., Smith J., Nievera I., McCulloch L., Wareg N., Clary M., Rajagopalan A., Brownson R.C., Koopman R.J., Hampl S. Adoption of an Electronic Medical Record Tool for Childhood Obesity by Primary Care Providers Applied Clinical Informatics. 2020;11(2):210-217.

Amarillo I.E., Nievera I., Hagan A., Huchthagowder V., Heeley J., Hollander A., Koenig J., Austin P., Wang T. Integrated small copy number variations and epigenome maps of disorders of sex development Human Genome Variation. 2016;3