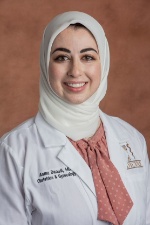 Asma Daoudi, MD
Instructor, Department of Obstetrics and Gynecology
---
Biosketch
Asma Daoudi, MD, MS, is a resident physician in the Obstetrics and Gynecology Residency Program at Western Michigan University Homer Stryker M.D. School of Medicine. She is a graduate of Augusta University in Georgia; her bachelor's degree is in Cell and Molecular Biology and she completed the degree as an honors program student. She earned a Master of Science degree in Health Sciences from West Virginia University in Morgantown, West Virginia. After earning her master's degree, Dr. Daoudi returned to Georgia, where she completed her Medical Doctorate at the Medical College of Georgia in Augusta. During her medical school career, she wore many hats, including representing her class as the Curriculum Vice President, fundraising for the Leukemia and Lymphoma Society, coordinating regional COVID-19 PPE fundraising efforts, and volunteering at vaccination clinics. She is a member of the Gold Humanism Honor Society and the Alpha Upsilon Alpha Leadership Honor Society. Her clinical, research, and service interests include medical education, cancers of the female reproductive system, and raising awareness about women's health in vulnerable populations.
Education and Training

MD 2021, Medical College of Georgia
MS 2017, Health Sciences, West Virginia University School of Medicine
BS 2016, Cell and Molecular Biology, Augusta State University

Research

Women's health in vulnerable populations
Medical Education
Gynecological cancers

Publications

Howie R., Borke J., Kurago Z., Daoudi A., Cray J., Zakhary I., Brown T., Raley J., Tran L., Messer R., Medani F., Elsalanty M. A Model for Osteonecrosis of the Jaw with Zoledronate Treatment following Repeated Major Trauma PLoS ONE. 2015;10(7)

Howie R.N., Bhattacharyya M., Salama M.E., Refaey M., Isales C., Borke J., Daoudi A., Medani F., Elsalanty M.E. Removal of pamidronate from bone in rats using systemic and local chelation Archives of Oral Biology. 2015;60(12):1699-1707.