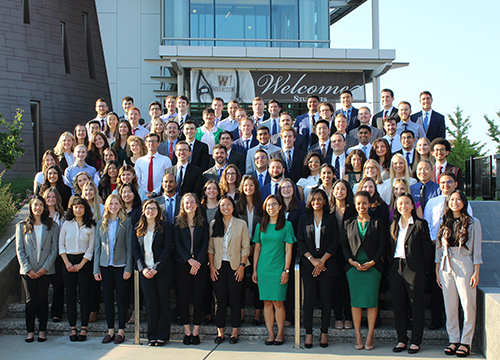 The medical school's eighth class of future physicians – the MD Class of 2025 – has officially arrived.
The 84 students were welcomed to WMed on Monday, July 26, 2021, along with five students who are completing a one-year Master of Science in Biomedical Sciences degree.
The students' arrival comes as medical school leaders continue to navigate the ongoing COVID-19 pandemic and restrictions around gatherings and events at WMed – in place since last year – have been lifted and in-person instruction and learning have resumed. For some new students, Monday marked their first time visiting the W.E. Upjohn M.D. Campus after a completely virtual interview and admission process.
The MD Class of 2025 was chosen from a pool of 4,342 applicants, an increase of 22 percent over last year. The diverse cohort boasts an average MCAT score of 513 with scores ranging from 498 to 522 along with an average GPA of 3.77.
"Moving to a virtual admissions cycle has been a challenge, but it's evident as you meet and get to know this class that they are much more than just academically prepared for medical school; they have unique and diverse backgrounds and the personal attributes to become truly outstanding physicians," said Jean Shelton, assistant dean for Admissions and Student Life.
The newest MD class is composed of 43 women and 41 men from 16 states and Canada. They range in age from 21 years old to 39 years old with an overall average age of 24.9. Twenty-eight students are Michigan residents with 17 hailing from California, the second highest represented state. 
With collaboration and teamwork as a pillar of our curriculum, this group of students comes to WMed by way of 57 undergraduate institutions where they pursued majors that include biology and chemistry, as well as Spanish, women's studies, journalism, and biochemistry, among others. Approximately 16 percent hold advanced degrees and almost half are fluent in at least one additional language.
Highly represented undergraduate institutions include the University of Michigan, UCLA, and Michigan State University. Locally, seven students are from Southwest Michigan and four attended an institution with which WMed has a preferred relationship.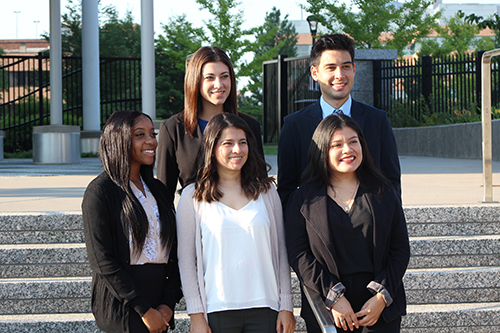 At WMed, the admissions process recognizes the importance of diversity and seeks students who bring strengths in academics, personal attributes, and pre-medical experiences. Institutionally, we seek students who will reflect the diversity of the patients we serve. In the Class of 2025, 17 percent come from populations underrepresented in medicine. This adds to the diverse community at WMed.
The Class of 2025 is being joined at the medical school by five students who are pursuing a Master of Science in Biomedical Sciences degree. The master's degree program, now in its sixth year, is designed specifically for applicants to WMed who have strength in their pre-medical experiences and attributes and would benefit from additional basic science preparation before beginning their pursuit of a MD degree.
The students who are pursuing the Master of Science in Biomedical Sciences degree bring a wide breadth of backgrounds and experiences to the learning environment at WMed. The students, as part of their acceptance to the master's program, are conditionally accepted to the WMed MD Class of 2026.
Meanwhile, students in the Class of 2025 will receive their white coats and be officially welcomed into the medical profession on Saturday, September 11, during a White Coat Ceremony at Western Michigan University's Miller Auditorium. Please visit https://med.wmich.edu/whitecoat for more information.