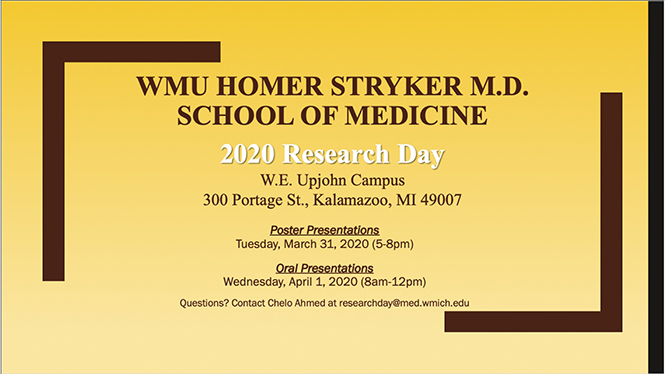 ---
2020 Research Day Deadlines
Thursday, January 2: Online form opens for abstract submission
Thursday, January 23: Deadline to submit exempt research studies to the IRB (irb@med.wmich.edu)
Friday, January 31: Deadline for abstract submission at 11:30 p.m. (EST)
Wednesday, February 5: Scoring begins
Wednesday, February 19: Complete judging of abstracts
Monday, February 24: Authors notified of results
Monday, March 16: Deadline for poster submissions - MUST submit to researchday@med.wmich.edu
Monday, March 30: Oral PowerPoint presentation deadline – MUST submit by 12:00pm (EST)
Tuesday, March 31: 2020 Research Day (Poster Presentations)
Wednesday, April 1: 2020 Research Day (Oral Presentations)
IRB Assistance with Abstract Submissions
As you are preparing to submit your Research Day Abstract Submission and you're trying to determine if/what IRB oversight is required, please contact the IRB at 269.337.4345. If you would like an in-person consultation, please visit us on the fourth floor of the W.E. Upjohn M.D. Campus. Office hours are Monday-Friday, 7 am – 5 pm. If you have questions outside of our office hours, please send an e-mail to irb@med.wmich.edu or contact IRB Director Maureen Owens at 616.808.9159. The electronic IRB application is available at https://imedris.med.wmich.edu.
Additionally, please note the deadlines above (January 2, January 23, and January 31) regarding the abstract submission form. If you have any questions, please send your emails to researchday@med.wmich.edu.
Research Day Submission Categories
Basic Sciences: Activities related to fundamental, theoretical, or experimental sciences including development of technologies and techniques.
Clinical: Activities related to safety and effectiveness of medications, devices, diagnostic products; and treatment regimens intended for human use, including analysis of established clinical practice and case presentations.
Community and Public Health: Activities related to identifying and addressing community health needs.
Medical Education: Activities related to the design, development, and implementation of educational programs or events, including the utilization of technology in the classroom setting.
Social and Behavioral Sciences: Activities related to the investigation of human society, social relationships, and human behavior.
Note: Oral presentations will be awarded to the top abstracts.
CE Accreditation
In support of improving patient care, Western Michigan University Homer Stryker M.D. School of Medicine is jointly accredited by the Accreditation Council for Continuing Medical Education (ACCME), the Accreditation Council for Pharmacy Education (ACPE), and the American Nurses Credentialing Center (ANCC), to provide continuing education for the healthcare team.
Credit amount subject to change.
Interprofessional Continuing Education
This activity was planned by and for the healthcare team, and learners will receive 3.5 Interprofessional Continuing Education (IPCE) credits for learning and change.
Physicians
Western Michigan University Homer Stryker M.D. School of Medicine designates this live activity for a maximum of 3.5 AMA PRA Category 1 Credits™.  Physicians should claim only the credit commensurate with the extent of their participation in the activity.
Pharmacists & Pharmacy Technicians
Western Michigan University Homer Stryker M.D. School of Medicine designates this activity for 3.5 contact hours for pharmacists and pharmacy technicians.  Pharmacists and pharmacy technicians should claim only credit commensurate with the extent of their participation in the activity.
Abstracts, Posters and Oral Presentations
For WMed-affiliated Research Day entries, please see the suggested poster templates below. If you prefer to develop your own poster, please ensure you use an official WMed logo with the appropriate dimensions, which can be found in the WMed Identity Guide. Links to the official logos are provided below. Guidelines for abstracts and scientific posters are also available from the Division of Epidemiology and Biostatistics.
These templates are used as a guideline for your poster design, but are not required. If you plan to use a different template, please be sure to email your FINAL artwork to Laura Eller, Director of Communications, for approval, to insure that your poster will be paid for. These templates are already sized to be printed at 42" tall x 63" wide and do not need to be adjusted. If you are the presenting author and are WMed-affiliated, please be sure to have the WMed logo present on your poster. If you chose to use a different poster template, please obtain the appropriate WMed logo from Laura Eller.
Additional Resources
All potential Research Day participants have access to additional resources for creating scientific posters and abstracts via the WMed Library.
Research Day 2020 Speaker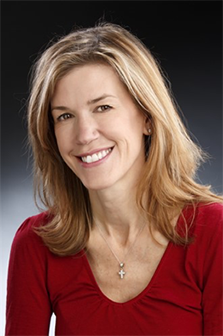 Susan E. Quaggin, MD, FASN, is a graduate of the University of Toronto where she completed her residency and served as chief medical resident for the University's St. Michael's Hospital. She completed her nephrology fellowship at the University of Toronto and did a postdoctoral fellowship at Yale University where she studied the genetic basis of kidney development. Dr. Quaggin completed a second post-doctoral fellowship in mouse genetics in the laboratory of Janet Rossant at the University of Toronto's Samuel Lunenfeld Research Institute. From 1997 until 2012, she was at the University of Toronto where she was a Senior Scientist at the Samuel Lunenfeld Research Institute, a practicing Nephrologist at St. Michael's Hospital, and the Gabor-Zellerman Professor in Renal Medicine.
In January 2013, Dr. Quaggin joined Northwestern University Feinberg School of Medicine where she has led efforts in closing the gap between scientific discovery and delivering innovative patient care in regards to kidney and cardiovascular diseases. Her research has helped enhance the understanding of common glomerular diseases and inspired the development of promising therapeutics, including discoveries regarding blood vessels, lymphatics and specialized hybrid circulations.
Currently she is the Charles Horace Mayo Professor of Medicine at Northwestern University where she serves as the Chief of the Division of Nephrology and Hypertension and the Director of the Feinberg Cardiovascular and Renal Research Institute. Dr. Quaggin is the Chief Scientific Officer of Mannin Research Inc, a biotechnology company leading the development of a new class of vascular therapeutics. Dr. Quaggin is president-elect of the 20,000-member American Society of Nephrology, and in 2019 was elected to the National Academy of Medicine.