Dr. Paula Termuhlen recently marked her first 100 days on the job as the dean of WMed. With that milestone in mind, this month she reflects on what she's learned about the institution, the medical school community, and how that knowledge will help shape her vision for the future.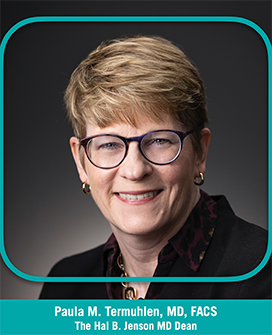 After your arrival in May, you planned to focus intently on listening and learning to fully gauge the strengths and opportunities that exist at WMed. In your first 100 days, what have you learned?
WMed has "good bones," the organizational infrastructure is sound, and we are moving into our next decade with a very solid foundation in each component that makes up our medical school. This positions us to evolve into a high-performing peer institution to other medical schools across the country. We are well-positioned for the future as we are called upon to provide outstanding education for our learners, innovative research, and competent, compassionate clinical care for the communities we serve. We do these things well at WMed but there are always opportunities to grow and improve. Moreover, in the research domain, I am impressed by the successes of our laboratory scientists. Their groundbreaking work has helped foster an environment of discovery. We can build upon that to take on new opportunities that exist in other areas such as informatics or health services, as well as community-based, population health, and educational research. Lastly, in terms of community engagement, the pandemic has illustrated how we, as a medical school of the future, partner with our external stakeholders to help serve the needs of our communities. You had been doing that important work at a top level already, but it became even more visible during the last 17 months of the pandemic.
Conversely, as I look to areas of opportunity, we will take a deeper look at roles, responsibilities, and our current leadership structure to ensure that it will help us achieve a compelling and inspiring vision for the future. At this point in our young history, a review of our structure allows us to identify and address potential gaps that have emerged over the last decade. It also opens the door for all of us at WMed to take on new challenges that can be energizing and invigorating. And as I think about our faculty and staff, I see the opportunity to invest in our people in a way that goes beyond just financial investment.  We need to create internal opportunities that will allow everyone to grow and develop in the work they do. We need to keep the best and the brightest at our medical school and, for those who find opportunities elsewhere, we can always be proud that we were part of their success.
During your discussions with the WMed community – senior leadership, faculty, residents, students, and staff – what have you learned in terms of what inspires each group to do the work they do to make the medical school successful?
At WMed, it became evident to me very quickly that the individuals who make up our medical school community are extremely proud of what they do – and they should be! They are inspired to be a part of creating the next generation of physicians and scientists. That investment and buy-in is critical to our future success as an institution. For me, a tangible example of that commitment is the Medical Student Admissions Committee. The committee members have a clear focus and understanding of who we are seeking to train as physicians. It's an important process, one that must be equitable as we identify the learners we want to bring to WMed. The members of that committee have a deep commitment to their work. Thank you. 
As I look outside of WMed, I am awed by what I see in our engagement with the people of Kalamazoo and Southwest Michigan. We have a significant footprint here in helping to support educational opportunities for young people – from elementary school through college – with initiatives like our Early Introduction to Health Careers (EIH) pathway program and the newly developed Health Careers Partnership Program (HCPP). We have opened our doors to foster community conversations around diversity and social justice. We provide safety net services in a variety of locations for clinical care, meaning that we've created additional access for people to get the healthcare that they need. And we help to support other initiatives such as vaccination clinics around Kalamazoo and Southwest Michigan. Our people are deeply committed to the populations here, and to their health. This positions us well to take on the challenges our communities face and to make a significant mark in improving health equity.
What have you learned from our external stakeholders in terms of their expectations of WMed and what they want from the medical school as an institution and community partner?
As we move forward, it will be vitally important for me and other leaders at WMed to continue to foster relationships with our partners in education, healthcare, business, and community action throughout Southwest Michigan. We can be a valuable and authentic partner for our external stakeholders now and in the future. We are at a point now where we must do some reflection internally to identify our strengths as a community collaborator and then focus on the work that needs to be done. 
With initiatives like our EIH pathway programs and HCPP, we recognize as a medical school that it's our obligation to inspire young people to consider careers in science and health that may not lead to medicine.  However, we can foster and support their continued educational growth. It may feel strange that a medical school is partnering with elementary and middle schools but in fact it really is the work we should be doing along with our ongoing partnerships with Cradle Kalamazoo and the Merze Tate Explorers program, among others.
Based on what you've learned in your first 100 days, what are some of the steps for WMed to make its mark in healthcare and find its place among the nation's medical schools?
We're an organization in evolution. We are at a point in the life of the medical school where we do have some things that we need to take a hard look at to see whether they are still necessary or beneficial to the work that we're doing. We have the energy and nimbleness to tackle that process and do some deep reflection that will allow us to shape our identity for the future and focus on what really inspires us, what we're good at, and what we can offer. That process will begin soon. It will require all of us at WMed to think about where we want to go as a medical school as we create an aspirational and inspirational vision for the future. Importantly, this will be integrated with the Empowering Futures Gift. The resources given to us by our generous donors come with an expectation around our growth and development that moves us toward health equity. Very few schools this early in their history have experienced that kind of generosity that can support a big vision.
In your opinion, what are some of the biggest challenges facing WMed? What's keeping you up at night?
The one thing that keeps sticking with me is that we need to figure out how to help people know how much they're appreciated here at WMed. We're in a time where every organization is faced with retaining the best and the brightest, and while the financial rewards of work are very important it's only part of the equation. I sense that not everyone knows how much they're appreciated for what they're doing and contributing, and that's why I keep coming back to the question – how do we invest in our people in a variety of ways to help demonstrate that appreciation and gratitude? 
What things have you come to quickly love about Kalamazoo?
By far, of all the places I've lived, Kalamazoo is the most friendly and welcoming community I've moved into. I am a huge fan of the Kalamazoo Farmer's Market and I love how easy it is to get outdoors and do fun things like hiking, biking, and going to the beach. An interesting observation that I've made about Kalamazoo – and my husband saw this too – is that, while it's not perfect, it is invested in its people and you can sense how genuine this community is about wanting to help everybody be successful, regardless of who you are or where you come from. We have community benefactors and leaders who are able to inspire others to join them in that work and it has made a huge difference and kept Kalamazoo really vibrant. The civic engagement of benefactors here is far and away the most innovative and thoughtful I've ever seen.
A Hat Tip from Dr. T
I'm all about the unsung heroes and I want to take a moment to recognize our facilities team and custodial staff at WMed. They cover a lot of territory in different areas and buildings. On a personal level, they have worked very hard to make my office at the W.E. Upjohn M.D. Campus comfortable. Our custodial team makes this place shine and sparkle, so we have the great benefit of wonderful facilities in which to do our work. Kudos to the facilities team for all they do to ensure our safety, comfort, and that we have great place to work and learn. Thank you!
Dean Termuhlen's Take On ... is a monthly message from our dean to discuss topics of importance to WMed, medical school stakeholders, and the communities that make up Southwest Michigan. Is there a topic you would like to hear Dean Termuhlen's take on? Let us know by sending a message to office.dean@med.wmich.edu.