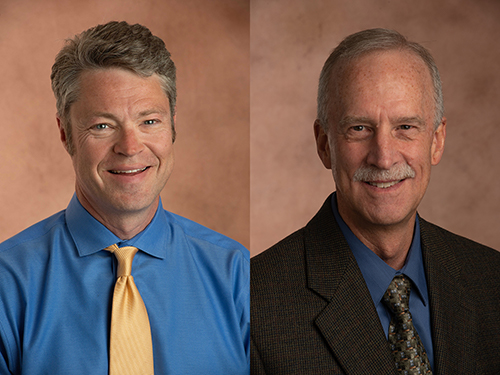 A longtime faculty member who holds dual professorships in the departments of Emergency Medicine and Pediatric and Adolescent Medicine has been named the new assistant dean of Simulation at WMed.
John Hoyle, MD, began his new duties on July 1, 2021, replacing Richard Lammers, MD, the medical school's inaugural assistant dean for Simulation who helped develop the state-of-the-art Simulation Center at the W.E. Upjohn M.D. Campus after the founding of WMed in 2012.
"I'm excited to start my time as the Assistant Dean for Simulation," Dr. Hoyle said. "We have an outstanding Simulation Center that is the envy of many other medical schools with a great physical space, staff, leadership, and equipment.  Dr. Lammers did an outstanding job of making the Simulation Center great and I hope to continue that. We want to start taking simulation 'on the road' to our hospitals and clinics to train, help diagnose systems issues, and prepare for  emergencies. If you have an interest in that, please contact me."
Dr. Hoyle, who is board-certified in pediatrics, pediatric emergency medicine, emergency medicine, and emergency medical services, boasts an extensive background in simulation research, particularly as it applies to pediatric out-of-hospital care, and he has been the recipient of numerous federal grants in the field. He has worked closely with Dr. Lammers for more than a year to ensure a seamless leadership transition within the Simulation Center.
Meanwhile, as he steps down from his duties as assistant dean for Simulation, Dr. Lammers will continue his work as a professor in the Department of Emergency Medicine with a focus on the medical school's Emergency Medicine residency program. Dr. Lammers has provided numerous years of extraordinary leadership at WMed and the Michigan State University Kalamazoo Center for Medical Studies, the predecessor to the medical school. He is the recipient of numerous teaching awards, including being named the 2003 Emergency Medicine Residents' Association of Michigan Teacher of the Year.
Since 2001, Dr. Lammers has been instrumental in leading the design of simulation-based medical student and resident curricula. He has designed over 70 simulations, and has led teams that created task trainer models, produced procedural training films, and developed computer-based instructional programs, and conducted education research.
"Establishing the WMed Simulation Center has been the most enjoyable and satisfying project of my career," Dr. Lammers said. "It is a wonderful resource that prepares new physicians for clinical work, provides effective and enduring learning, enhances the confidence of learners at all levels, stimulates education research, and promotes patient safety. Under the capable leadership of Dr. Hoyle, and with the support of the skilled and experienced simulation staff, I'm certain that the Center will not just thrive but make significant advances in medical education."
Dr. Lammers graduated from Saint Louis University School of Medicine in 1977 and completed his residency training in Emergency Medicine at the Medical College of Pennsylvania in 1980. Prior to coming to Kalamazoo in 1993, he was a faculty member in the Emergency Medicine residency program at Valley Medical Center in Fresno, California. For much of his career, Dr. Lammers has served as a Research Director, and he has been a member or chair of Institutional Review Boards for 14 years. He has published numerous studies in medical journals and has written textbook chapters on wound care, procedure training and assessment, paramedic pediatric skills, and simulation-based education.
Dr. Hoyle's resume includes the distinction of being the first and, thus far, the only physician in the U.S. to obtain the four board certifications in emergency medicine, pediatric emergency medicine, pediatrics and emergency medical services.
Dr. Hoyle earned his MD degree from the University of Kentucky College of Medicine in May 1994 and completed a combined residency in emergency medicine and pediatrics at Methodist Hospital of Indiana, Indiana University School of Medicine in Indianapolis.
Before coming to WMed, Dr. Hoyle served as associate medical director for the Pediatric Emergency Department at Helen DeVos Children's Hospital in Grand Rapids, a role that involved building a new Pediatric Emergency Department and developing new protocols for sedation and pain management. He also served for 10 years on the Pediatric Emergency Care Applied Research Network (PEACARN) and co-authored many large, definitive pediatric emergency medicine studies, including the PECARN Neuroimaging decision rule.