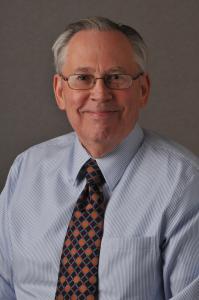 A collaboration of faculty members and staff at the medical school has made possible a 30-year research project that may be the longest-known study of physician well-being.
The work, started in the 1980s by David Dunstone, MD, associate professor emeritus in the medical school's Department of Psychiatry, tracked job satisfaction among a small cohort of practicing physicians in Kalamazoo over the span of three decades. The research project stalled in 2017 after Dr. Dunstone retired, but a group of medical school faculty members stepped in and saw it to completion.
Dr. Dunstone and his partner in private practice, Harold Reames Jr. PhD, set out three decades ago to understand what local doctors thought about the profession and about changes in medicine and if they would recommend it to young professionals. They interviewed 19 Kalamazoo-area physicians and developed a paper examining professional satisfaction in physicians.
The results of the research first were published in the 1989 Archives of Internal Medicine, titled "Professional Satisfaction of Physicians." Dr. Dunstone presented a 10-year follow-up to his research at the 1998 International Conference on Physician Health. Dr. Dunstone published a second paper in 2001 in Social Science and Medicine, titled "Physician satisfaction revisited." 
Dr. Dunstone kept in touch with the participating physicians, re-interviewing six of the original participants in 2012. He went on to interview 11 new participants in 2016 and 2017, just before his retirement. Upon retiring, Dr. Dunstone passed the project on to a resident, but the data languished. A year later a representative of the WMed Institutional Review Board inquired about the data and whether it could be destroyed.
"It seemed to me to be an absolute shame to not wrap this around, to follow this cohort with this last set of interviews, which essentially spanned their entire career," said Lisa Graves, M.D., the medical school's associate dean for Faculty Affairs. "I thought, let's pull together a team that may be interested in looking at this."
Dr. Graves recruited the help of Karen Horneffer-Ginter, PhD, then the medical school's assistant dean for Culture and Wellness, and Heidi Joshi, PsyD, an assistant professor and behavioral health educator in the medical school's Department of Medical Education. Dr. Dunstone wrote the initial draft, and then Kathleen Gross, MD, clinical research coordinator at the medical school's Center for Clinical Research, revised it and sought input from the others. Since then, Dr. Gross has overseen preparation and submission of the study's manuscript for publication.
Dr. Dunstone and Dr. Horneffer-Ginter presented the findings at the 2021 International Conference on Physician Health with Dr. Horneffer-Ginter interviewing Dr. Dunstone about his findings. That presentation, which moved to a virtual interview when the conference was moved from London to a virtual format when the COVID-19 pandemic hit, came 23 years after Dr. Dunstone presented his 10-year follow-up study at the same conference in 1998.
The study's results provide a starting point to discuss physician well-being and burnout rates as a larger medical community and could help change the way the medical community approaches physician well-being, the involved faculty members say.
Dr. Graves and Dr. Dunstone estimate the 30-year study is one of the longest longitudinal studies of physician wellness that has ever happened. The results showed physicians today cite similar causes of burnout and dissatisfaction to physicians in the 1980s even though they see their profession as a calling.
Many of the identified obstacles in the interviews over the years included top causes of burnout named today, including loss of control, a feeling of entrapment and deterioration of the doctor-patient relationship. 
The physicians spoke of their devotion to the field of medicine, but also revealed their frustration with the business focus within medicine, the challenges of adopting to electronic health records, diminished autonomy, loss of interactions with colleagues, lack of time to devote to patients' complex needs and fragmentation of care.
"One of the things we all agreed was there was very little change in these doctors over 30 years," Dr. Dunstone said. "They were very much committed to the practice of medicine. Many of them had been raised within medical families themselves and they would advise young people to go into it. They were enthusiastic about medicine."
Dr. Dunstone's research showed that burnout is not only a modern time issue caused by constrictions and pressures being put on physicians, Dr. Horneffer-Ginter said. Rather, it's important to understand the historical trajectory of stressors that have always existed, she said. Historically, it's been hard for physicians to ask for help, but studies like Dr. Dunstone's acknowledge that burnout happens and encourage the conversations that can shift the culture, Dr. Horneffer-Ginter said.
"Some articles are written as if burnout is a new issue, but what really got my attention is that's absolutely not the case," Dr. Horneffer-Ginter said. "This has been a conversation now for decades and it's really notable that this is one of our faculty alumni who was first thinking about this topic and doing qualitative research on it right here in Kalamazoo."