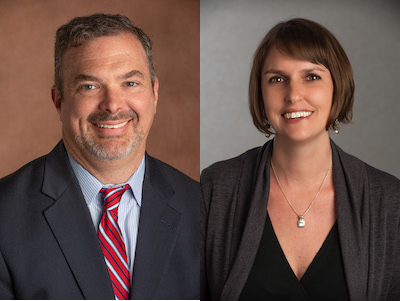 The medical school is unveiling a new approach to student advising to streamline the advising program.
The new academic advising team will be comprised of two full-time academic advisors and four part-time clinical faculty advisors. Together, the academic advisors team will serve as a central hub and knowledge base for all the advising and support services at WMed. 
At the inception of the medical school, the curriculum was designed so that 12 clinical faculty members who taught clinical skills also spent a small percentage of their time as scholar advisors in order to foster an opportunity to develop a meaningful relationship between clinical faculty and students. However, this also posed the potential for conflicts between teaching, assessing and advising. As the medical school has matured and evolved, the infrastructure for academic advising also needs to evolve, said Michael Busha, MD, MBA, associate dean for Educational Affairs and chair of the Department of Medical Education at the medical school. 
"While we have lots of student services in student life, mental health support, wellness support, tutoring support, career advising and career mentoring, we really didn't have the glue connecting all of those that could follow the student through all four years of medical school," Dr. Busha said. "Students lost contact with their scholar advisors when they matriculated into clerkships." 
Medical school leaders studied how academic advising was designed at other medical schools and how it interfaced with career mentoring, educational affairs and student affairs. Ultimately, they decided to streamline the advising program in a student-centered approach. Advisors help students develop personalized learning plans, discuss professionalism and track academic and career planning progress. The new approach maximizes the opportunity for student engagement, Dr Busha said.
"We think that complement will better follow students all four years, better meet our accreditation requirements and better supplement the individual student services that exist," Dr. Busha said. "From a student standpoint, it will help them navigate that."
In addition, the streamlined approach aligns medical school resources in the wake of the transformative $300 million Empowering Futures Gift – funding given to the medical school with the mission, in part, to make it inclusive and welcoming for students who are underrepresented in the field of medicine. Advisors will be able to provide support to students in the medical school's graduate degree programs – the Master of Science degree in Medical Engineering and the Hal B. Jenson MD Master of Science in Biomedical Sciences degree program.
The new advising structure will allow the medical school to evolve services to meet student needs and enhance student services, said Maria Sheakley, PhD, assistant dean for Academic Success at the medical school. Leaders anticipate the academic advising team to incorporate student learning specialist services and tutoring services with a focus on student needs over the next academic year.
Stepping into the role of clinical advisors are two experienced, practicing physicians -- Kelli Collins, DO, and Kate Redinger, MD. Andrea Swintal, EdD, and Sarah Hagen, MA, both experienced academic advisors, will use their experience in student-centered advising programs to provide wrap around support for students, Dr. Sheakley said. Two more clinical academic advisor hires are expected to be announced soon.
"Student success is a top priority at WMed and the evolution of the advising and support services will only help to ensure greater student success and satisfaction," Dr. Sheakley said.