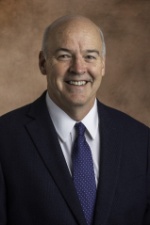 The medical school recently welcomed Laurence McCahill, MD, as the newest faculty member in the Department of Surgery.
Dr. McCahill is a professor in the department and a surgical oncologist who sees patients at WMed Health, the clinical practice of the medical school. Prior to his new role at the medical school, he most recently served as medical director of both the Breast Cancer Program and the Skin Cancer Center at Metro Health-University of Michigan Health Hospital. Dr. McCahill led the accreditation efforts of the breast cancer program, achieving formal accreditation by the National Accreditation Program for Breast Centers.
Dr. McCahill earned his medical degree from Duke University School of Medicine in 1990. He completed his general surgery residency at the University of Washington, Seattle, Washington. Dr. McCahill also has medical experience in the military, having served four years in the United States Navy from 1996 to 2000. He then went on to complete a two-year fellowship in surgical oncology at City of Hope National Medical Center.
Dr. McCahill's clinical interests include breast cancer, melanoma and other advanced skin cancers, endocrine surgery and colorectal cancer surgery.
Dr. McCahill has more than 20 years of experience in conducting medical research, and his areas of interest in research are health outcomes for breast cancer surgery and melanoma cancer treatment. He said he came to the medical school because he wants to return to academic medicine and work with residents on research.
As a surgical oncologist, Dr. McCahill said he gets to know his patients because he sees them often, so he can form strong bonds with them and get to know their family members.
"I typically see my cancer patients every six months or annually for five years," Dr. McCahill said. "As a cancer surgeon you participate in their recovery, surveillance, and a lot of coaching in trying to get patients back to a sense of normalcy and a cancer free survivorship.  I establish really strong bonds with some of these people."
Dr. McCahill also has personal experience on the patient side of oncology – his father died after a battle with pancreatic cancer, and his brother died of colon cancer.
"I've seen the patient side of how improvements and care delivery can really impact not only patients but their entire families," Dr. McCahill said.