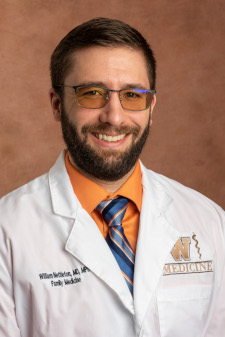 William Nettleton, MD, MPH, assistant professor in the Department of Family and Community Medicine at WMed, was recognized in September as one of the "40 Under 40 in Public Health" in recognition of his work as medical director for Kalamazoo County Health and Community Services and the Calhoun County Public Health Department. The de Beaumont Foundation announced its 2021 list on September 14 after reviewing applications from hundreds of rising leaders in public health. The cohort was selected by a distinguished panel of public health professionals for their leadership and impact on their community's health.
"At a time when health professionals are being required to adapt and take on monumental challenges, we are incredibly proud of these leaders," said Brian C. Castrucci, DrPH, president and CEO of the de Beaumont Foundation. "We created the 40 Under 40 initiative to recognize and tell the stories of rising leaders who are making a difference in communities across the country. By promoting their work and accomplishments, we hope to attract and inspire a new generation of leaders."
Dr. Nettleton has been a tireless advocate for public health in Southwest Michigan since coming to WMed in 2017. Among other things, he has worked closely with local and state officials on issues ranging from PFAS contamination response and the opioid epidemic. Dr. Nettleton has also been at the forefront of efforts in Kalamazoo and Calhoun counties to combat the COVID-19 pandemic and provide vaccines to community members.
"In public health we work to build trust and relationships to address community challenges that require community solutions," Dr. Nettleton said. "Public health is a public good that requires public investment. A population and community perspective will be essential to overcoming the public health challenges of the 21st century."
Applications for the "40 Under 40 in Public Health" were submitted between February 2021 and April 2021. Dr. Nettleton was part of a pool of applicants that represented a diverse set of backgrounds and a wide range of professional roles.
The de Beaumont Foundation released its first class of 40 Under 40 in Public Health in May 2019.
For more information about the 40 Under 40 in Public Health, including a full list of honorees, visit www.debeaumont.org/40Under40.