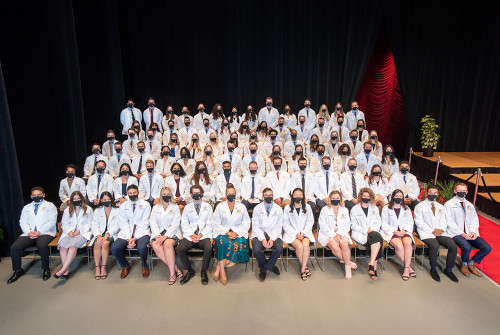 As she addressed the medical school's newest students during the Class of 2025 White Coat Ceremony, Dr. Elizabeth Warner recalled her time as an aspiring physician – the excitement she felt but also the fear and uncertainty of not measuring up to the task before her.
"So let me reassure you," said Dr. Warner, who is a clinical assistant professor in the Department of Medicine at WMed. "You are enough, you are worthy, you matter. You are right here in medical school, right now, for a reason so bring your vision to life. And, just for the record, don't get too hung up on the very real feelings of uncertainty and discomfort. We humans don't learn effectively when we are comfortable so a little discomfort pushes us to our learning edge.
"You have a multitude of strengths to tap into and a community to build, support, and develop you along the way," Dr. Warner added.
Dr. Warner was the keynote speaker for this year's White Coat Ceremony, which was held on Saturday, September 11, at WMU's Miller Auditorium. The event was also livestreamed, allowing family members and friends who could not attend in person to tune in to the festivities.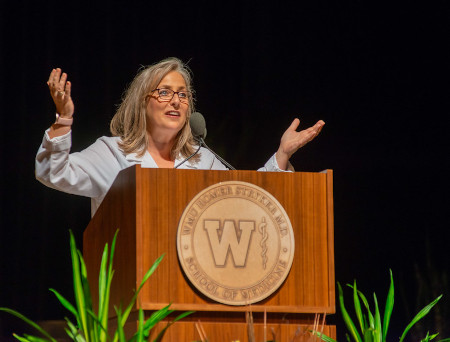 Students heard remarks from Dean Paula M. Termuhlen, MD, and M2 Deep Patel, among others, during the ceremony.
Patel told the students that the rigors of medical school can, at times, be exhausting and hard to navigate, calling it "four of the most difficult years of your life." Still, he reminded each of them that they are equipped to succeed and have the support of their family, friends, and the WMed community as they embark on the journey to become physicians.
"From the faculty and staff to clinicians, to standardized patients, everyone here wants you to succeed and will take every step possible to see you do so," he said.
A doctor's white coat has long been the widely recognized symbol of the medical profession. However, it wasn't until 1993 that the White Coat Ceremony was founded by the Arnold P. Gold Foundation, which concluded that the beginning of a student's journey into medicine is the best time to influence the standards of professionalism, humanistic values and behavior.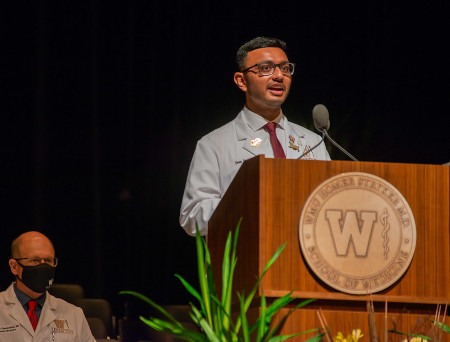 The white coat for each student at the White Coat Ceremony on September 11 was made possible by contributions from white coat sponsors. Each student received a handwritten note from their sponsor that was placed in the pocket of their white coat for them to read.
Dr. Termuhlen told students that the privilege of wearing their white coats is steeped in tradition and symbolism.
"Today's ceremony is more than a ritual," Dr. Termuhlen said. "You are pledging to follow the oath that you recite today during your career as a physician. Your role as a physician has already begun as you are now learning the science of medicine and how to practice the art of patient care. A physician must care as well as cure.
"As a physician you are obligated to demonstrate excellence in the master of scientific knowledge, to be compassionate, and to embody integrity, professionalism, and lifelong learning," she added.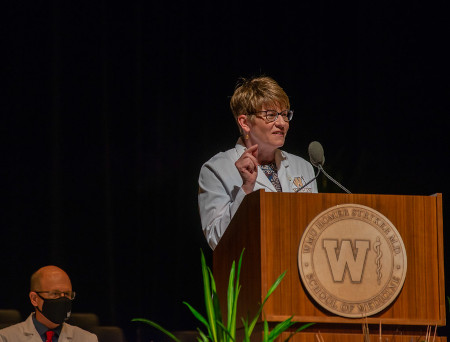 As the White Coat Ceremony concluded, the students recited their class oath, which they wrote collectively. The oath serves as a code of conduct throughout their time at WMed and as physicians after graduation.
As she closed out her remarks to the Class of 2025, Dr. Warner told the students that their study of medicine will include learning both human and technical systems and she reminded them of the importance of "connecting your head to your heart."
"As you don your white coat and enter the profession of medicine, let it keep you warm, hold your tools, display your nametag but do not let it shield you from the humans you will learn from and care for," she said. "Do not let it serve as armor to hide your humanity from the world. Let it represent your role in medicine, through which you can connect with other humans in their glorious, messy imperfection. And in yours too."