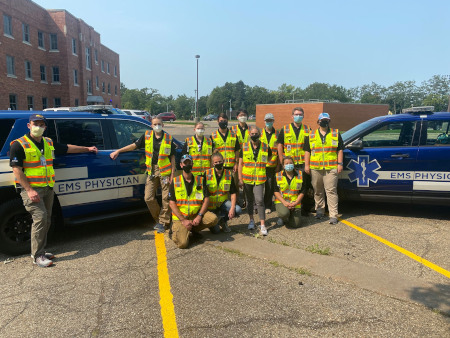 In September, when she was part of a team from WMed who helped provide EMS coverage at the WMU-Illinois State game at Waldo Stadium, M2 Somer Corbett and a classmate responded to a call before kickoff of a person who had fallen in a field not far from where spectators were taking part in pregame tailgating.
At the scene, Corbett said the medical first responder (MFR) training she received during her first year at the medical school kicked in. She and fellow M2 Katherine Rice assessed the patient and maintained their airway, and then worked together to extricate them from the field so they could be assisted by WMed physicians and EMTs from Life EMS.
"It really is a learning experience and a formative experience when we are out there," Corbett said recently. "We both realized in that moment we were responsible for that patient and responsible for using the skills taught to us in MFR to communicate with medical command to get that patient to a place where they could receive adequate care from EMS personnel."
The work by Corbett and Rice is all part of an ongoing effort by WMed students, resident physicians, and faculty to provide medical coverage this fall during home football games at Waldo Stadium along with Life EMS. The partnership between the medical school and Life EMS is nothing new and has been in place for several years.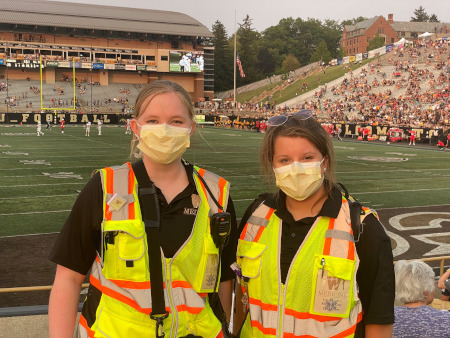 However, the partnership has taken on extra importance this year as EMS providers struggle to recruit and retain EMTs, a serious issue that has only been exacerbated by the COVID-19 pandemic, said Dr. Bill Fales, professor in the Department of Emergency Medicine, who leads the MFR training course at WMed and also serves as chief of the medical school's Division of EMS and Disaster Medicine.
"By having a good tiered approach with medical coverage – from medical first responders and EMTs to paramedics and physicians – one of our goals is to decrease the number of patients at the games who need to be transported to the hospital," Dr. Fales said. "At a time when EMS resources are relatively limited, it's important that we don't tie up an ambulance or our emergency rooms by transporting low-acuity patients. Every person we're able to treat and release at a game is one less patient using EMS and ER services and that has a real impact on keeping resources more readily available throughout the community."
So far, Corbett and her classmates, along with residents, a fellow, and faculty from the Department of Emergency Medicine, have helped provide medical coverage at two of the Broncos home games, as well as their season opener on September 4 in Ann Arbor against the Michigan Wolverines.
Corbett said she takes the work to heart and sees it as one way to give back to the community and let WMU students and fans know that WMed students like her are there to help if they're needed during a game. Even more, she said she's thankful for the MFR training she received as a first-year medical student after arriving at WMed in 2020.
"The MFR program is one of the things that drew me to WMed because of the early clinical experience and exposure that you get," Corbett said. "In that moment with Katherine, I realized that all of the skills I had been taught in MFR were available to me and I was fortunate to have fantastic teachers who really ingrained in me and my classmates how to respond to medical emergencies."
Dr. Fales said the opportunity for WMed students to gain experience and provide assistance at WMU home football games has been in place since the inaugural MD class arrived in Kalamazoo in 2014. Back then, he said interested students would partner with residents or EMTs and gain valuable exposure to incidents ranging from heat exhaustion and falls to seizures and asthma attacks.
Now, Dr. Fales said WMed physicians and students are taking on a larger and more active role in EMS coverage at the football games with 12-14 students, WMed's EMS fellow, two senior Emergency Medicine residents, and support from faculty and staff in the Division of EMS and Disaster Medicine with equipment and a small triage area in WMU's Lot 105 near Waldo.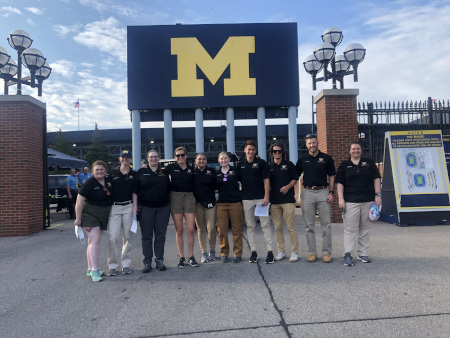 Dr. Fales said students are put together in teams of two or three with the goal of providing immediate care to anyone in need with backup and support from residents, the EMS fellow, and Emergency Medicine faculty. At games with larger crowds, he said EMTs and the team from WMed can see 20 or more patients as opposed to a dozen patients or fewer at games with lower attendance.
"The students really get a fair amount of autonomy at that level of MFR and there aren't a lot of tools in their tool basket compared to a doctor but the stuff that is there is important and they're able to use it," Dr. Fales said. "The goal is that when they're out on foot at a game, whether it be at tailgating or in the stands at Waldo, they can respond to a call, provide immediate life-saving care and make an assessment to determine if a next level of care is needed."
Dr. Fales said WMed students, residents, and faculty who are stepping up to help at the home football games are doing so at a critical time for the community.
"We have a local, state, and national EMS workforce shortage and it is extremely difficult for local EMS to provide the coverage at the games to the level that they would normally like to have," Dr. Fales said. "Even before COVID we were seeing downward trends in recruitment and retention for our EMS providers and COVID has only exacerbated the issue."
Dr. Fales said the opportunity for WMed students and Emergency Medicine residents and faculty to provide increased assistance in the midst of the EMS workforce shortage, he believes, is a "win-win-win" situation for the medical school, WMU, and the community.
"It's a win for WMed to get students who have an interest some additional experience at a level that they're qualified to operate at," he said. "That, in turn, provides a benefit to the broader WMU community at the games so they can have a safe environment if there's a problem, and it frees up EMS units and our hospitals to respond to the rest of the community.
"It really is a reflection of the benefit of having a MFR program at the medical school and it is another good example of how WMed, in a small way, can have a positive impact on the community," Dr. Fales added.