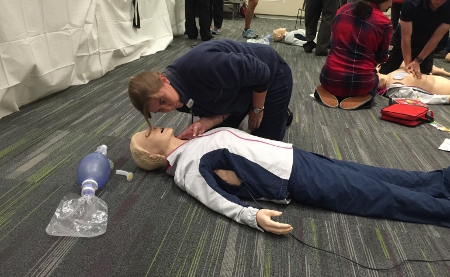 We provide the American Heart Association HeartCode (blending learning) approach to Basic Life Support (BLS), Advanced Cardiac Life Support (ACLS) and Pediatric Advanced Life Support (PALS) renewal courses. HeartCode is a web-based, self-paced instructional program that uses eSimulation technology to allow you to assess and treat patients in virtual healthcare settings. Course completion consists of 3 parts: a computer-based cognitive portion (Part 1), a skills practice portion (Part 2), and the skills testing portion (Part 3). Parts 2 and 3 will be completed with WMed faculty and AHA instructors overseeing your activities in the Simulation Center. 
BLS Classes are offered the second Tuesday of each month and ACLS courses remain the Blended Learning option (HeartCode: Part 1 is web-based eSim; Part 2 is Manikin/Team practice, and Part 3 is testing). Part 1 is completed online while parts 2 and 3 practice and testing are completed in the Simulation Center (a minimum of 4 participants is needed to conduct the course).
PALS Blended Learning Heartcode courses are now offered to students who are current or renewing PALS certification (a minimum of 4 participants is needed to conduct the course). ACLS and PALS Initial courses for first-time students will be offered as needed (contact the Simulation Center for details).
Courses are offered for those in need of recertification, with scheduling precedence provided to residents, staff and faculty. Open seats are provided to others of interest as available. Courses are held at the Simulation Center at the W.E. Upjohn M.D. Campus and/or the WMed Simulation Center at Ascension Borgess Hospital (5th Floor West).
July 2020-June 2021 Schedule
 

| WMed AHA Courses | BLS |   | ACLS Part 2 and 3 |   | PALS Part 2 and 3 |   |
| --- | --- | --- | --- | --- | --- | --- |
|   | Date | Time | Date | Time | Date | Time |
| July | 7th | 8:30 AM-12:30 PM | 14th | 8:30 AM-1:30 PM | 21st | 8:30 AM-1:30 PM |
| August | 6th | 8:30 AM-12:30 PM | 13th | 8:30 AM-1:30 PM | 20th | 8:30 AM-1:30 PM |
| September | 8th | 8:30 AM-12:30 PM | 15th | 8:30 AM-1:30 PM | 22nd | 8:30 AM-1:30 PM |
| October | 6th | 8:30 AM-12:30 PM | 13th | 8:30 AM-1:30 PM | 20th | 8:30 AM-1:30 PM |
| November | 5th | 8:30 AM-12:30 PM | 12th | 8:30 AM-1:30 PM | 19th | 8:30 AM-1:30 PM |
| December | 1st | 8:30 AM-12:30 PM | 8th | 8:30 AM-1:30 PM | 15th | 8:30 AM-1:30 PM |
| January | 7th | 8:30 AM-12:30 PM | 14th | 8:30 AM-1:30 PM | 21st | 8:30 AM-1:30 PM |
| February | 2nd | 8:30 AM-12:30 PM | 9th | 8:30 AM-1:30 PM | 16th | 8:30 AM-1:30 PM |
| March | 2nd | 8:30 AM-12:30 PM | 9th | 8:30 AM-1:30 PM | 16th | 8:30 AM-1:30 PM |
| April | 1st | 8:30 AM-12:30 PM | 8th | 8:30 AM-1:30 PM | 15th | 8:30 AM-1:30 PM |
| May | 4th | 8:30 AM-12:30 PM | 11th | 8:30 AM-1:30 PM | 18th | 8:30 AM-1:30 PM |
| June | 1st | 8:30 AM-12:30 PM |   |   |   |   |