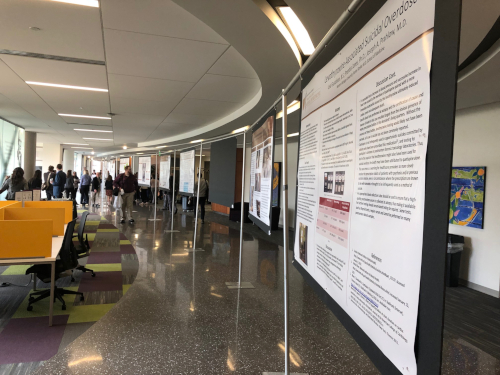 The 40th Annual Kalamazoo Community Medical and Health Sciences Research Day will be held in April at the W.E. Upjohn M.D. Campus.
The two-day, in-person event will take place April 13-14 and will provide an opportunity to highlight the scientific community's breadth of research and scholarly activity with highly focused talks on topics that will include basic and translational science, clinical research, public health research, social and behavioral sciences, and education-related research.
The event will consist of a series of oral presentations, poster sessions, and workshops with the first poster session taking place on April 13 from 5:00 to 7:00 p.m. and a second poster session, as well as oral presentations, scheduled for April 14 from 8:00 a.m. to 12:30 p.m.
"Attendees will get a chance to see all of the things we are doing here at the medical school and the collaboration that is taking place among members of the WMed community, as well as WMed and Western Michigan University," said Adil Akkouch, PhD, who serves as chair of the organizing committee for Research Day.
Dr. Akkouch said attendees will be able to view Research Day abstracts and speak with presenters during the first poster session on April 13. That will be followed on April 14 by a Plenery talk, oral presentations, and a second poster session. A keynote speaker for this year's event is to be announced at a later date, he said.
The deadline to submit an abstract for this year's Research Day is Monday, February 28, at 11:59 p.m. Review of the abstracts will begin on Tuesday, March 1, and authors will be notified by Thursday, March 17. More information about abstract submission requirements can be found on the WMed website at https://med.wmich.edu/researchday.
Any questions about this year's Research Day activities can be submitted to the WMed Office of Research at office.research@med.wmich.edu.