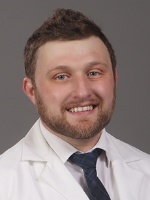 Ryan F Halas, DO
Clinical Assistant Professor, Department of Pediatric and Adolescent Medicine
Clinical Assistant Professor, Department of Medicine
---
Contact Information
Patient Care Related:
Medicine-Pediatrics, 269.337.6345
Biosketch
Ryan Halas, DO, is a board-certified internal medicine and pediatric physician. He currently practices with Bronson Pediatric Cardiology Specialists - Kalamazoo. He is a graduate of Michigan State University, East Lansing, Michigan, which is also where he earned his medical degree. He completed an internal medicine and pediatrics residency program with Western Michigan University Homer Stryker M.D. School of Medicine, Kalamazoo, Michigan. He completed a pediatric cardiology fellowship with the Children's Hospital of Michigan, Detroit, Michigan. Dr. Halas' clinical and research interests include congenital heart defects, pediatric cardiology, and database use in research.