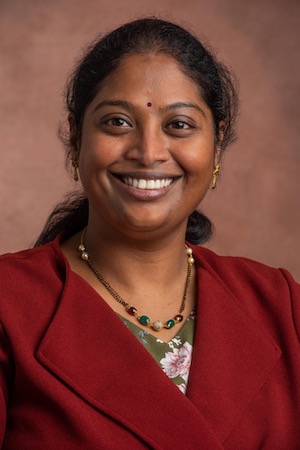 In her career as a staff psychiatrist and an associate residency program director, Madhavi Nagalla, MD, has had the opportunity to work with – and learn from – psychiatry residents.
Now, that opportunity will expand as Dr. Nagalla takes on the role of psychiatry program residency director at the medical school. Her role became official when she joined WMed on Dec. 29.
"I'm very excited and grateful," Dr. Nagalla said of her new role. "I think this will be a great learning opportunity for me, and at the same time I'm grateful for the opportunity to create an impact on several young physicians."
Dr. Nagalla was born in South India and earned her medical degree from Guntur Medical College in 2006. She completed a psychiatry residency at Nassau University Medical Center, where she was chief resident in her final year. She went on to complete a psychotherapy fellowship and a psychosomatic fellowship at University of Michigan Health System.
Prior to coming to WMed, Dr. Nagalla served as an adult staff psychiatrist at Pine Rest Christian Mental Health Services and an assistant professor at Michigan State University College of Human Medicine. She went on to work as associate program director of the psychiatry residency starting in 2018.
Her clinical interests are women's reproductive mental health, which includes pregnancy, postpartum, infertility and perinatal loss. At Pine Rest, she was introduced to perinatal psychiatry with the Mother-Baby Partial Hospitalization Program.
"What I really love about practicing women's mental health is being the voice for women and advocating for them," Dr. Nagalla said. 
She is now excited to return to consultation-liaison psychiatry, which is taking care of psychiatric symptoms in patients who have other complicated medical needs.
Dr. Nagalla has worked with residents since the start of her career. She started as a staff psychiatrist at Pine Rest in August 2014, around the same time the first class of residents started there. In 2018, she was asked to be the associate program director for the psychiatry residency program at the freestanding psychiatric hospital. 
Dr. Nagalla said she saw the residency program director role at the medical school as an opportunity to nurture her interest in consultation-liaison psychiatry and resident education. In addition, she said she felt having worked as an associate program director for three years that she was ready to serve as more of an advocate for residents in the program director role. She said she welcomes the opportunity to consult at Bronson Methodist Hospital and Ascension Borgess, along with the ability to teach the psychiatry residents and residents from other departments and learning from them as they learn from her.
As she starts her new role, Dr. Nagalla said she is coming into a strong training program. The four-year residency at WMed now boasts six residents per year. Residents work with patients in the 50-bed mental health unit at Ascension Borgess, along with the 10-bed adolescent partial hospitalization there. They also see patients in the Department of Psychiatry's outpatient clinic and at the community mental health center at Kalamazoo Community Mental Health & Substance Abuse Services.
"The environment where I can learn from residents as they learn from me will be healthy for all of us to grow our knowledge base," Dr. Nagalla said. "For me, learning new information and keeping myself updated with all the advancements that are happening in psychiatry is very important. I thought for that I needed to be in an academic environment."