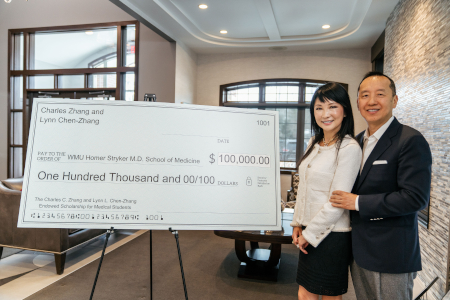 In an effort designed to create significant change – the very definition of a catalyst – WMed has launched a new scholarship fundraising campaign.
"The Catalyst Scholarship Program will help donors immediately impact the quality of life of medical students," said Paula M. Termuhlen, MD, the medical school's Hal B. Jenson MD Dean. "It's designed to award funds to students as soon as possible."
The Catalyst campaign officially launched Thursday, January 27, at Kalamazoo's two-day Catalyst University, a presentation of Southwest Michigan First, with an inaugural contribution of $100,000 from Zhang Financial.
A $5,000 portion of the gift from Charles C. Zhang and Lynn L. Chen-Zhang will provide one MD student a $2,500 scholarship in Spring 2022 and the same amount for Fall 2022. The rest will establish an endowment named in honor of the Zhangs to fund educational opportunities for medical students for decades to come.
The Association of American Medical Colleges (AAMC) compares tuition rates among medical schools and places WMed in the upper third of all private medical schools in the U.S., with an annual tuition of $67,000 for the MD program.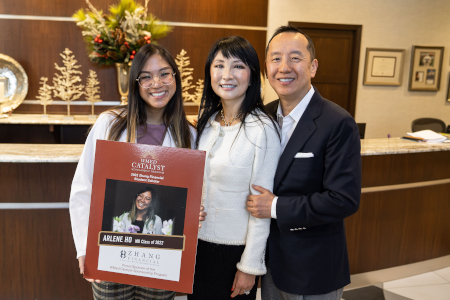 "Medical school financing is complex and challenging. Given that we are a private institution with no State funding and a small student base of less than 85 new learners each year, our tuition is higher than other medical schools. It's really about funding streams and economics of scale," Dr. Termuhlen said. "But we are committed to reducing our tuition through creative strategies while still providing the best faculty, services, and facilities to meet the needs of our learners."
The majority of new physicians nationwide graduate with student debt, and WMed offers a relatively small number of scholarships, meaning the average student graduates with more than $240,000 in loans.
"One of the most important impacts of the Catalyst Scholarship Program is to keep the cost of medical degree programs accessible and affordable to students of all backgrounds," said Jack Mosser, PhD, associate dean for Development and Alumni Affairs. "It will play a vital role in reducing expenses and help our admissions staff attract and retain students from the world over. 
"Scholarship support is an investment in the lives of real students," Mosser added. "It allows them to focus on becoming physicians without the burden of debt hanging over their heads. We are proud to be part of the education landscape of Kalamazoo, and add to its reputation as the 'education city' fueled by programs like The Kalamazoo Promise. We all know that education is the catalyst for community transformation and economic growth."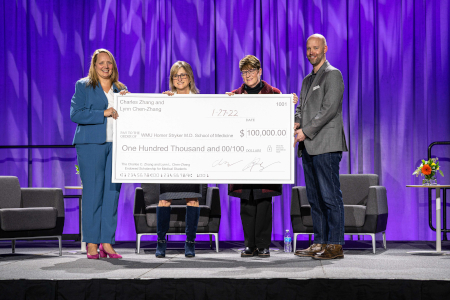 Funds raised through the Catalyst Scholarship Program through June 30, 2022, will be awarded during the 2022-23 academic year to medical students in need. Donors who give $1,000 or more may choose a specific student or students as their named scholars. Donors contributing $50,000 or more, as the Zhangs have, can create a dual impact, providing both immediate scholarships and an endowment for a named annual scholarship awarded in perpetuity. All donors supporting the Catalyst Scholarship Program will be recognized in the annual WMed Philanthropy Impact Report and at the annual fall Donor Appreciation Luncheon.
"This remarkable gift will allow our students to achieve their goals with less financial burden," Mosser said. "We are deeply grateful to the Zhang family for their generosity and their commitment to supporting our future physicians."
"We hope our commitment might encourage others who might be thinking of ways that they can contribute to future generations taking the first step to becoming healthcare professionals," the Zhangs said. "Seeing the impact of COVID in our community and across the nation put into perspective how vital it is to have leaders in medicine."
To learn more about the Catalyst Scholarship Program call Jack Mosser, associate dean for Development and Alumni Affairs, at 269.337.6335 or email jack.mosser@med.wmich.edu. To make an online donation visit med.wmich.edu/catalyst.