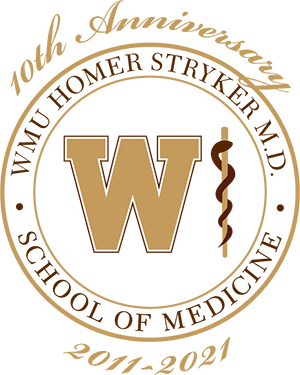 The year 2021 is another significant milestone for WMed as we celebrate the 10-year anniversary of the medical school. 
We have achieved tremendous success during our first decade because of the active engagement of our faculty, staff, residents, fellows, students, and the broader medical school community. 
We have achieved accreditation as an institution of higher learning and, where available, accreditation for many of our individual programs, which provides external validation that we consistently meet the highest standards for quality and excellence. 
We currently have 337 students enrolled in our M.D. program as well as master's degree programs in Biomedical Sciences and Medical Engineering. 
Our faculty are recognized nationally and internationally as thought leaders in medical education resulting from their roles in creating and developing the medical school's innovative curriculum.
Our success preparing medical students for residency training is demonstrated by a 99% or better match rate each year with our graduates entering highly competitive residency programs throughout the United States.
All of our residency training positions in our graduate medical education programs are consistently filled; we currently have more than 240 residents and fellows training in 10 residencies and five fellowships serving patients throughout southwest Michigan.
WMed Health, the medical school's clinical practice, offers more than 36 comprehensive primary care and specialty services in Kalamazoo, Portage, and Battle Creek, providing more than 67,000 outpatient visits per year.
Our Department of Pathology faculty serve as the Office of the Medical Examiner (coroner) for counties throughout Michigan and northern Indiana, performing more than 1,000 autopsies each year.
Our research programs and accomplishments span basic laboratory research, clinical research including creating the Center for Clinical Research, translational research including assimilating the Innovation Center, community-based research, and educational research, resulting in attracting substantial extramural funding and peer recognition.
The 2020 economic impact of the medical school attributable to organizational and student spending equates to 1,600 new jobs and a $353 million increase in output or sales in Kalamazoo and Calhoun counties. 
We are fulfilling our mission to educate and inspire lifelong learners as we aspire to achieve our vision to be a national leader among medical schools.