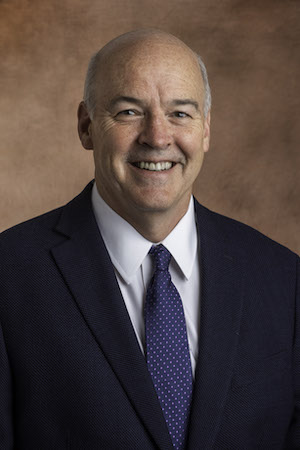 A WMed surgical oncologist with a passion to help others using the skills he has honed over the last 30 years spent seven days in Honduras recently to treat patients who otherwise wouldn't have access to care.
Laurence McCahill, MD, a professor in the medical school's department of Surgery and a surgical oncologist who treats patients at WMed Health and at the West Michigan Cancer Center, traveled to Honduras in February to operate on patients on a medical mission.
One World Surgery, a Deerfield, Ill.-based non-profit organization, funds and operates the Holy Family Surgery Center on the property of the children's home Nuestros Pequeños Hermanos. The center is located one hour northeast of Tegucigalpa, the capital of Honduras.
Dr. McCahill returned to the surgical center in February to operate on patients who wait for volunteers like him to make the trek. Volunteers pay their own way to the site to fill the need of patients who need specialists. Many of the patients travel from far distances and would not be able to afford the care they need without the program, Dr. McCahill said. The trip is one Dr. McCahill has made for the last five years.
"Our patients come from hours away," Dr. McCahill said. "I hear their stories personally through the interpreters. Some of them travel for days to get to us. It just breaks your heart."
On his most recent trip, Dr. McCahill spent long days in the operating room, performing nearly 20 surgeries – double his normal weekly workload at WMed Health and at the West Michigan Cancer Center.
"It becomes a very, very busy week," Dr. McCahill said. "When you hear how much people have sacrificed to get there to see you, you complete the surgery that week as long as you safely can."
The surgery center has three operating rooms along with several clinic bays, a dental clinic and an eye clinic. A medical director and his staff provide patient consults and surgeries and provide follow-up care for patients who are treated on medical missions.
Patients Dr. McCahill saw on this trip had locally advanced breast cancers, enlarged thyroids, and, in some cases, had cancer that had progressed past the point that could have been helped by surgery. Those worst-case scenarios are not usually seen by doctors in the United States because patients have better access to care, he said. Each patient had completed their chemotherapy prior to seeing Dr. McCahill for surgery, but usually the patients do not have the means to access radiation therapy. Patients are monitored for follow-up care by physicians who work full-time at the surgery center.
Dr. McCahill said he will continue to volunteer on the medical mission trip to use his skills for good. 
"Most of us went into medicine to help people," Dr. McCahill said. "As I approach the back end of my career, I feel like I've got very good skills and I'm doing what I can in my own way to help people."
In the future, Dr. McCahill sees the medical mission as an opportunity to train residents and provide an example of how they can give back later in their careers, after they have finished their training. He hopes to be able to bring a WMed general surgery resident with him on a future trip if funding allows.
"I'm trying to provide care for people who need it," Dr. McCahill said. "I think all people try to do good in their own way and I'm just trying to use my skill set."