In this month's installment of Dean Termuhlen's Take On …, our dean Dr. Paula Termuhlen discusses the season of change as the MD Class of 2022 and students from the Master of Science in Biomedical Sciences and Master of Science in Medical Engineering degree programs gear up for commencement.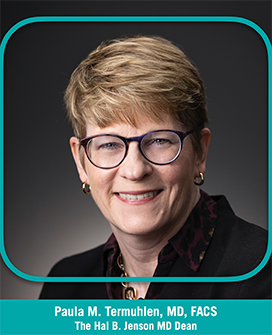 What is it that you're most looking forward to about commencement this year, especially given that the event will be held in-person for the first time in three years?
Graduation is a milestone that reminds us of why we do the work that we do. When we celebrate, we should be celebrating ourselves as much as we celebrate our graduates because it takes a village to raise a physician or a scientist. I've always enjoyed graduation. It's a time of renewal. The idea that this is happening in-person after having been virtual for a couple of years, there's a certain energy right now that I sense in people who are able to participate in live in-person events. I would say there is a subtle level of gratitude for being able to be present. To see families and friends, to hear the graduates talk with one another and in some instances, to say goodbye because they're moving on to other things, those are all part of the entire experience of graduation. 
How can the medical school's faculty and staff best support our students during this season of transition?
In most instances, even when people graduate, they never quite feel ready. They always feel like they're looking over their shoulder for a while. We want to send a message of confidence that not only are we proud of them, but we know that they will really shine and take care of patients in the way that they've been taught. While they may not always feel like they have the right answer, we know that they'll take care of people compassionately. I think the best thing we can do is to really tell everyone, "You've got this."
That's also true of students in our Master of Science in Biomedical Sciences degree program because they also feel a little uncertainty going on to medical school. They've been well prepared for what's next. We're confident in them and that translates back to all the other classes as they move up or they're beginning new programs. We picked the best and the brightest and we know that they can do this. Now's the time to recognize that, acknowledge it, and prepare for the next level of learning.
Commencement will be the first time our graduating students will hear the word "doctor" before their names. Looking back at your own graduation from St. Louis University School of Medicine, what do you remember most about that experience? 
I went to Saint Louis University School of Medicine, and every year we would sing the Irish blessing as a Catholic tradition to bless people on their way. I was part of the choir, and I sang it every year during medical school. That last year of singing, that was particularly special just because it was finally my turn as a graduate. 
Whether it was my own personal graduations or those of my students and residents over the years, I've always enjoyed that very public acknowledgement of the transition as well as the accomplishment. Feeling like an imposter is something that is recognized in a lot of different ways and depending on what your background is or who you are as a person, you might even be more susceptible to it than a classmate. That's why it's important for us to rally around and support people and say, "You've got this." Maybe your location will change, or your responsibilities will change, but just relax into it and apply the things that you've learned. Our students are superheroes of learning. They know how to acquire information that can help them do the best thing possible for their patients.
Not only will we have medical students graduating, we also will have several students graduating with Master of Science degrees in Biomedical Sciences and Medical Engineering. Why are these programs important for the medical school to offer?
As an institution of higher learning, we have the faculty expertise to provide these degree programs that help us to diversify and support the future healthcare team. This is incredibly important to the community at large. Our Master of Science in Biomedical Sciences program is designed specifically to prepare students for success in medical school. The program gets us closer to creating a diverse workforce of physicians that reflects and understands the people that we serve. The Medical Engineering program is focused on the interface between the traditional disciplines of medicine and engineering where exciting advances in medical devices technology and innovative procedures are occurring. Our graduates are prepared for careers creating new medical devices, diagnostic technologies, treatments and processes to improve healthcare. We can leverage what we know about the medical and healthcare environments and define other pathways to enhance the work of the physician. It's not just physicians, as we all know, who take care of patients. We can create the best environment possible to provide that patient care. 
The inaugural members of the Master of Science in Biomedical Sciences degree program have now graduated as MDs. Katie Jones, MD, in the WMed Class of 2021 is now a pediatric resident at Duke University Medical Center, and Ernest Morton in the Class of 2022 is headed to Emory University School of Medicine for a urology residency. As you watch some of the MBS students coming full circle and graduating from WMed, how does that speak to the success of this program? 
Watching individuals be able to successfully complete both the master's program and the medical degree program is ultimately what it's all about. These two individuals are exactly what we expect when we bring someone into the Master of Science in Biomedical Sciences degree program. They're going to continue to represent WMed very well by taking their learning to different parts of the country. We also hope over time that we'll be able to retain some of our WMed students as well as other Michiganders in our residency programs and locally for practice.
Is there anything else you'd like to mention about commencement or our degree programs?
We literally can't do the work of launching these new physicians and individuals who earned their master's degrees without the help of many, many people at WMed with a variety of different skills. That's everything from making sure we have a clean facility and infrastructure that helps us do the teaching to someone being kind to a patient at the registration desk and someone who supports one of the faculty members. These are the people who are the unsung heroes of the medical education universe because it's easy to see the faculty and their contributions. I always like to remind everyone that it really does take that village to raise a physician, and I'm grateful for that. We have a really strong team here at WMed.
Who would you like to recognize for your hat tip? 
I'd like to recognize everyone who is playing a part in planning our Family Medicine-Kalamazoo residency program relocation to Crosstown Parkway and the new WMed Health Family Medicine practice that will open there this summer. I'm grateful for the work of the Family Medicine program leadership, the clinical affairs team, facilities, IT, communications, and others who have made this possible. The timeline was very short. We now have an opportunity to serve even more patients in the Kalamazoo community. We will add to what the Family Health Center has done for many years, and we will continue our relationship with them. This team at WMed has identified and prepared a new site and ensured that everyone is having constructive conversations around how to accomplish the work and ensure the patients are provided for. I can't thank the individuals who've been working on it enough. We're very excited that this is about to launch. The Kalamazoo community needs more primary care physicians, and this new site will open an additional resource for care no matter where you live in Kalamazoo.