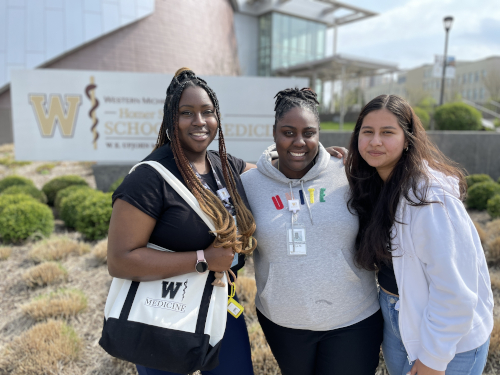 Ever since elementary school, Niya Martin has wanted to be a physician, to specialize in Obstetrics and Gynecology and be an advocate for her patients and their children in her hometown of Chicago.
Now, as one of three students who are part of the first cohort of the 4+4 BA/MD Program at Albion College, Martin is on her way to realizing that dream.
"I'm really grateful for this opportunity," Martin said recently.
The 4+4 Program, which was launched in 2021, is a unique collaboration between Albion College and WMed that offers qualified students the opportunity to pursue a MD degree at the medical school after receiving their BA degree from Albion College. While attending Albion, students develop cultural competence, communication, teamwork, and social skills through meaningful community engagement and at WMed they benefit from learner-centered education as they become leaders in the medical field.
Through the program, which spans eight years, students are granted acceptance into both degree programs directly from high school and are provided with enrichment opportunities while at Albion College where they must meet and maintain program standards to advance to the MD degree program.
Martin, along with Chetachi Agunanne and Cinda Avila, recently completed her freshman year at Albion and in May the trio spent a week in Kalamazoo where they got an up-close look at WMed as part of the 4+4 Program. While at the medical school, the students had a full itinerary of events that allowed them to learn more about the admissions process and student life at the medical school. They also toured the W.E. Upjohn M.D. Campus, met with academic advisers, had lunch and dinner with students, faculty, and staff, learned about research and attended a Seminars in Investigative Medicine event.
They also got the chance to meet with WMed Dean Dr. Paula M. Termuhlen and took part in gross anatomy events with faculty from the Department of Biomedical Sciences. Toward the end of their week at WMed, they attended the Class of 2022 commencement at Miller Auditorium and took part in an exercise in the Simulation Center and a clinical medical ethics case discussion.
"There are so many things that we've learned," Agunanne said. "Seeing all of this is really motivating. You can picture yourself being a student here and coming here now really helps me envision that."
Avila said the week the students spent at WMed helped solidify and strengthen her desire to be a physician. She has her eye on being an orthopaedic surgeon after her time at Albion and WMed.
"This is something I can see myself growing in," said Avila, who grew up in Los Angeles. "Being a physician can be a long, tedious track and everyone takes different paths, but we'll get there. That's what we're here to do and that community support system is a very strong thing here."
The 4+4 Program supports WMed's mission to build a diverse and inclusive environment that serves the medical needs of the communities we serve – specifically those from underrepresented groups in medicine. At Albion, Agunanne, Avila, and Martin are attending the Lisa and James Wilson Institute for Medicine, a national leader in premedical education. The Wilson Medical Institute, named after gene therapy pioneer and Albion alumnus James Wilson,  prepares students to become altruistic leaders in healthcare through an innovative academic curriculum and immersive clinical, research, and community engagement initiatives.
"It is exciting to begin developing relationships with future students through regional partnerships," said Mike Busha, MD, MBA, the medical school's associate dean for Educational Affairs and chair of the Department of Medical Education. "As the medical school enters a new phase of strategic focus, I look forward to additional partnerships within the region to promote retention of area college graduates in Southwest Michigan."
Agunanne, who came to Albion from her hometown of El Paso, Texas, said she is proud to be part of the 4+4 Program and that the initiative is helping address the lack of people of color currently practicing medicine. After her time at Albion and WMed, she said she wants to work as a physician specializing in dermatology.
"Representation in the medical field is something that really matters and the lack of people of color in the medical field is something that is prominent and I believe in making a difference," Agunanne said. "I want to be able to see the direct impact of my work and as I thought about that and all of the different careers that exist, I can only see myself being a doctor."
Martin said she was appreciative of the opportunity to build relationships with WMed faculty, students, and staff during the week in Kalamazoo. She said those connections serve to strengthen her desire to become a doctor.
"Building those different relationships and seeing how close-knit and welcoming everyone is at WMed, that is something I will take back to Albion," she said.