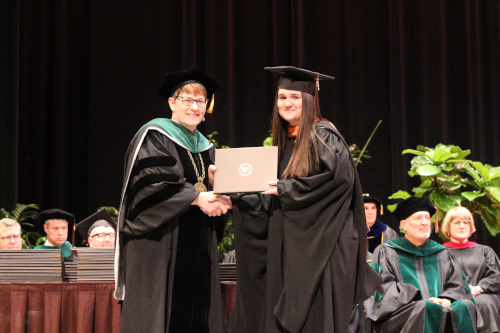 When she graduated from Western Michigan University with her degree in biomedical sciences, Lilly Ruell had her eye on a next step that would involve working in clinical research or, possibly, enrolling in medical school.
As she navigated that path forward, she learned about the Master of Science in Medical Engineering degree program at WMed from Kelsey Cushway, a fellow WMU alumna who graduated from the master's program in 2021.
"It seemed like the best next step," Ruell said. "I could still pursue clinical research while gaining great experience through the clinical immersion portion of the program if I decided that I still wanted to apply to medical school."
Now, on the heels of earning her master's degree in Medical Engineering, Ruell says her time as a student at WMed was "really eye-opening" and she plans to begin applying for medical school next spring after she takes the MCAT.
As she reflected recently on the two years she spent in the Medical Engineering program, Ruell said the experience has set her up for success as she begins the pursuit of her dream to become a physician.
"We got the opportunity to come up with something innovative and focus on our priorities and goals, and the faculty were there to support us and ensure our success," Ruell said. "You come out a more well-rounded engineer. And for pre-med students who aren't sure they want to become a physician but do want to be in the world of clinical research or engineering, the program has a lot to offer."
Ruell, much like her classmates Benjamin Schintgen and Avery Waldron, settled into the master's program and began honing her thesis after the clinical immersion portion of the program that allows students an up-close look at physicians at work at Ascension Borgess Hospital and Bronson Methodist Hospital.
From that experience, Ruell said she fell in love with vascular surgery and stint design, which led to her working closely with Adil Akkouch, PhD, and James Springstead, PhD, assistant professors in the Program in Medical Engineering, on a research thesis – "The Effect of Low-Density Lipoprotein Particles on Osteoblast Differentiation," The thesis explored what role LDL particles may play in the link between cardiovascular disease and osteoporosis.
"I would say that they were the keys to my success," Ruell said of Drs. Akkouch and Springstead. "I did a lot of work on my own but they were there every step of the way … I had full access to them all the time."
Tycho Fredericks, PhD, program chief for the Program in Medical Engineering, said Ruell's experience and that of her classmates is a biproduct of a degree program that offers small class sizes and a small faculty-to-student ratio. He said those two factors allow for the formation of strong relationships between learners and professors as they explore the interface between the traditional disciplines of medicine and engineering and how that can lead to advances in medical devices technology and innovative procedures.
"It's that human element," Dr. Fredericks said. "We're small and it's very hands-on, and we know our people. All of our students have our cellphone numbers and it's all about those relationships."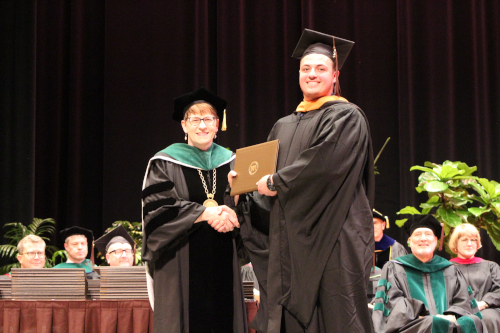 Schintgen, who earned a degree in aerospace engineering from WMU in 2020, said his decision to pursue his master's degree at WMed was one of the best he could have made. He said the clinical immersion portion of the program and getting to see up close how the different departments within a hospital function created "a whole new experience of learning."
"Going into an OR  and seeing exactly how a physician uses a device or what changes they would like to make to a device was very valuable to my education," he said. "With my experience, I got to know what it's like to ask doctors who are using the devices engineers are making how to make their life better. That experience helped me land my job and advance in the field I'm now in."
Schintgen, who graduated with Ruell and Waldron at the WMed Class of 2022 commencement ceremony on May 12 at WMU's Miller Auditorium, interned as an engineer at Parker Hannifin in Kalamazoo during his time in the master's program and began working full-time there last July as a lean manufacturing engineer. He's now transitioning to a new role as a lean leadership development associate.
His experience during the clinical immersion portion of the master's program at WMed led Schintgen to work closely with Peter Gustafson, PhD, an associate professor in the Program in Medical Engineering, on his thesis – "Quantifying Surgeon Mallet Swinging Performance Using an Intra-Operational Device" – that explored the creation of a device to quantify the force of mallet impacts made by physicians during hip replacement surgeries and a way to decrease the number of femur fractures during the procedures.
Schintgen said his project was challenging but led to him becoming a better researcher for future projects he may take on.
"Whenever I needed something specific, the faculty were always there for me instantly," Schintgen said. "It was always great having that one-on-one experience with my thesis committee."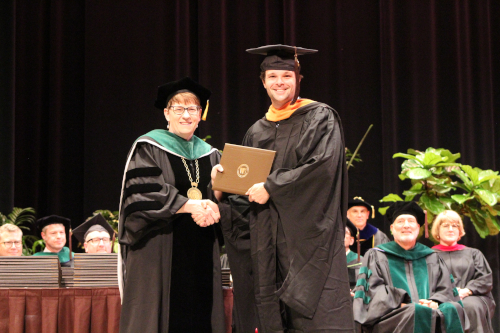 Waldron, who graduated from the University of Michigan in 2019 with a degree in mechanical engineering, said the small class size and one-on-one attention offered by the Medical Engineering program appealed to him as he made the decision about whether to pursue a graduate degree after his time in Ann Arbor.
"The biggest draw for me was the small size of the program and the catering of it to the individual student," Waldron said. "I very much loved my time at Michigan and it was always my dream to go there and study engineering but at a school of that magnitude it can sometimes feel a little overwhelming. So, that individual aspect of the Medical Engineering program was perfect for students like me and the rest of my cohort because we were all looking to get something different out of it."
Now that he has completed his master's degree, Waldron said he is considering a job offer from a local company where he worked as an intern during his time at WMed. It's one of a few offers he's weighing from companies specializing in medical device creation and innovation.
Whatever role he steps into, the work Waldron did on his master's thesis with Dr. Fredericks and Lee Wells, PhD, an assistant professor in WMU's Department of Industrial and Entrepreneurial Engineering and Engineering Management, will serve him well. Waldron's thesis – "A Comparative Analysis on the Precision of the 'Push/Thumb' Test Conducted During Orthopedic Procedures" – was rooted in his clinical immersion experience much like Ruell and Schintgen.
Waldron got the opportunity to observe and work closely with Todd Ream, MD, a clinical assistant professor in the medical school's Department of Orthopaedic Surgery, and explore what enhancements could be made to improve work in the operating room. Waldron said Dr. Ream discussed the creation of a tool to conduct the push/thumb test that is used to determine bone density prior to a surgery and whether bone cement will need to be used during a procedure.
That led to Waldron, as part of his thesis, analyzing the overall precision of the push/thumb test among individual surgeons, as well as groups of surgeons. Waldron said the entire process took months and he leaned on Drs. Fredericks, Ream, and Wells, as well as Keith Kenter, MD, chair of the medical school's Department of Orthopaedic Surgery, and Steve Butt, dean of WMU's College of Engineering, who are both professors in the Program in Medical Engineering.
"It was both terrifying and exciting," Waldron said. "Here I am, a 25-year-old graduate student, working with these extremely intelligent individuals from different walks of life and working with them was an amazing learning experience that showed me how to do good research, manage a project, and put together a thesis."
As they each prepare for their next steps after graduation, Ruell, Schintgen, and Waldron said they are each proud of what they achieved during their time in the Medical Engineering program.
Meanwhile, Dr. Fredericks said he is impressed by the program's most recent graduates and the "phenomenal success" they are experiencing after their time at WMed.
"I'm like a proud father," he said. "It is truly an honor to serve our students and help them achieve their dreams."