At WMed, we recognize and encourage the continuous expression, development, and representation of the uniqueness of all individuals. Inclusiveness is defined as valuing diversity and fostering respect for all individuals and points of view without judgment, bias or stereotype. WMed is committed to fostering an environment that is inclusive, trusting, open and draws upon the collective strength of the diversity of our students, residents, fellows, faculty, and staff. We are dedicated to a culture that facilitates the increased understanding of – and appreciation for – the diverse backgrounds, inherent worth and dignity of each and every individual. We strive to promote and recognize the strength that comes from individuals working together to achieve worthy goals and the medical school seeks always to remove any barriers that may exist to achieving our culture of inclusiveness.
WMed is committed to fostering a learning environment that:
Values diversity and inclusiveness as being integral to the humanistic practice of medicine, an enriched educational environment, discovery and scholarship that addresses the needs of diverse communities, and meaningful community service
Welcomes a diverse body of faculty, students and staff from all segments of society to enhance the learning experiences of all learners
Celebrates human diversity and cultural pluralism through inclusiveness, acceptance, mutual respect, and empowerment
Delivers excellent clinical care with equity
Appreciates diversity of experiences, perspectives, ideas, contributions, talents, and goals
As part of that continuous commitment to diversity and inclusiveness, the medical school's Office of Health Equity and Community Affairs has undertaken several initiatives aimed at supporting and engaging WMed faculty, staff, residents, and medical students. Some of those activities – present and future – include:
Active Citizenship: During the first and second year of medical school, WMed students actively work with an organization in the Kalamazoo community to enhance and change the perspectives of those who may be different than us. This can include race, religion, ethnicity, gender, gender identity, education, work experience, and values.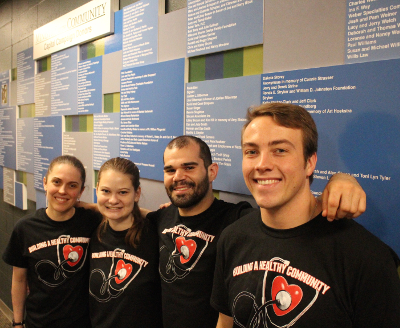 Day of Service: First-year students at WMed get a chance to spend a day in the Kalamazoo community giving back. The organizations where students lend their time are those that serve and contribute to the underserved or underrepresented. Students value the experience and say it helps them gain knowledge about individuals who come from different backgrounds and it helps develop a keen awareness of the different patient populations they will serve and provide care to as physicians.
Minority Association of Pre-Med Students at WMU (MAPS): The Minority Association of Pre-Med Students at WMU is an organization committed to creating a supportive network for underrepresented premedical students and increasing the number of culturally and socially competent physicians. Students interact with physicians and medical students and hear from those who have walked the "walk." Students also gain more knowledge from current medical students and the their journey to become a physician.
Health Summit: The inaugural Health Summit will be held in 2017 at WMed's W.E. Upjohn M.D. Campus. The event will include objectives and break-out sessions on several topics, including promoting social justice, understanding people's life experiences, community resources and understanding implicit bias, among others.
Pipeline programs: The mission of WMed's pipeline programs for second graders and 10th graders from Kalamazoo Public Schools is to foster a platform for medical students to teach and design interactive learning experiences to help the younger students develop leadership, team-building and problem-solving skills. 
The Early Introduction to Health Careers (EIH) initiative is led by students with a passion for addressing the educational achievement gaps that present a barrier to diversity in health professions.
Part of our efforts at WMed include working with elementary and high school students of disadvantaged backgrounds in Kalamazoo to foster science and health career aspirations through an innovative mini-medical school curriculum designed by WMed students, who also act as mentors for the program.