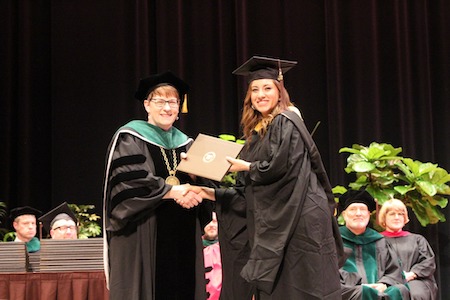 When Raven Riordan thinks about the pivotal moment she decided to become a physician, she recalls the way her mother's obstetrician calmed her anxiety during her pregnancy with Riordan's younger brother. 
"Seeing this OB/GYN ease her fears with the pregnancy and support her and be there for her really sparked my interest in medicine," said Riordan, who was in high school when her younger brother was born. "I loved her OB/GYN and I loved being there for her appointments, learning and watching."
Riordan continued with her interest in maternal medicine after obtaining her biology degree from the University of Missouri. She conducted research in a clinic that provided prenatal care for women who had substance use disorders.
"It solidified my interest and I fell in love with the work they do," Riordan said.
As the first person in her family to attend medical school, she grew up seeing her relatives harbor a sense of mistrust of physicians and the healthcare system in general.
"Seeing them encounter barriers to taking care of their health and then having health complications down the road inspired me to become a physician and to advocate for patients who may not have the same resources or access to health care as others," Riordan said.
Starting in July, Riordan will realize her dream as she starts in the medical school's MD Class of 2026. But WMed's campus is not new to her, nor is Kalamazoo. Riordan is one of five students who graduated this month from the medical school's Hal B. Jenson MD Master of Science in Biomedical Sciences degree program. Students Nyla Hart, Yosselin Ocho Barrios, William Prieto and Alejandra Solis Sanchez celebrated the milestone alongside her.
The nine-month program is designed for applicants to WMed who have strength in their pre-medical experiences and attributes, but who would benefit from additional basic science preparation before starting medical school. Coursework in the program is designed to strengthen understanding in basic science material, providing a stronger foundation as the student enters medical school. Participants take classes alongside medical students on the subjects of molecular biology, genetics and immunology, among other classes. 
Students who are accepted to the master's program are conditionally accepted to WMed's MD program for the following year. The program supports WMed's mission to build a diverse and inclusive environment that will serve the medical needs of the community. The medical school further supports diversity in its master's and MD programs through funding aimed to support inclusive education that empowers people and communities to create a bright future for all. 
Announced in June 2021, the $300 million Empowering Futures Gift supports scholarships to reduce financial barriers for future doctors to reflect a diverse community; expands the portion of students who receive full scholarships; and fosters innovation, collaboration and discovery in basic science, clinical science and community-based research. The gift will be distributed over the next 10 years starting in 2022.
When she thinks about her nine months at WMed studying biomedical sciences, Riordan said she does not regret turning down a full-time job as a project manager of a clinical research lab to come to Kalamazoo. She got the call to interview for the master's program after working full-time as a clinical research assistant for two years and taking the MCAT three times.
"I did a lot of research before coming to WMed, but I think this year allowed us to get experience, dive deep into current literature and think critically, which are skills we will need to have throughout our careers," Riordan said. "I think I developed a great relationship with the faculty members on my thesis committee, so that provides some confidence going into medical school already having built those relationships."
One of the faculty members on Riordan's thesis committee, Laura Bauler, PhD, an assistant professor in the medical school's departments of Biomedical Sciences and Medical Education, directs the students' two-semester capstone course. In the course, students are challenged to put forward a thesis, explore the literature, identify research questions and develop that idea into a 30-page document. At a master's student symposium at the end of the year, they present a 10-minute talk on their thesis.
Riordan continued her quest for knowledge about maternal medicine with her thesis, "The Roles of Reactive Oxygen Species in Pregnancy and the Potential Impacts of Increased ROS on Fetal Growth in Females Afflicted with Preeclampsia."
"Raven's thesis was exceptional and a very advanced thesis for a master's level student," Dr. Bauler said. "She found a lot of incredible literature."
Nyla Hart, a Detroit native, joined the master's degree program after earning her bachelor's degree from the University of Michigan and working full-time at a research complex.
Hart's thesis, "Using CRISPR/Cas9 Technology to Excise/Mutate the HIV Provirus within the Human Genome to Prevent Latent Reactivation," explored removing portions of the HIV genome that are integrated within the host genome in order to cure someone of HIV. Hart said she became interested in the topics of sexual health and the implications of HIV after taking a class on LBGT health in undergrad.
Hart, who also is the first in her family to attend medical school, said she made the decision to pursue her MD in high school. She wants to work in Detroit to help increase access to health care to people in the community and to help increase trust between patients and physicians there.
"Having a doctor who looks like you is so helpful in cultivating a culture and a trust with the people who are in your community," Hart said. "That's what pushed me to want to be a physician."
Hart said having guaranteed admission into the MD Class of 2026 made WMed feel like the best path for her. She said having WMed take a chance on her made her committed to finishing her studies in Kalamazoo.
"I'm just excited to continue on as a medical student," Hart said. I'm excited to go on this journey with my cohort, and I feel more prepared than I would have if I had gotten into an MD program last year."
Dr. Bauler said she sees a marked difference in the master's students who walk through the doors of the medical school the first day and the students who have become experts on their topics by the time they defend their theses in May. 
"We see them go from quiet, introverted students to students who are going to be leaders in their medical class, students who are confident in their abilities and their knowledge and students who are comfortable within the walls of WMed," Dr. Bauler said.
Besides building critical thinking skills they will need in the following four years, the master's program gives students foundational knowledge across the curriculum that they will see again as medical students, Dr. Bauler said. On top of that, they become comfortable with the medical school's culture and with living in Kalamazoo, she said.
"They become resources for all of the new students coming in, and they have a cohort of peers they have built here," Dr. Bauler said. "They know where to live. They know where the good food is. They know how to travel around town. They know how to thrive outside of medical school."
The master's students come out of their year of study with ready-made research projects tinkering in the back of their heads. Some go on to join WMed researchers in their labs and others become leaders in student interest groups or organizations such as the Latino Medical Student Association.
"This program gives us a chance to increase diversity in our classes," Dr. Bauler said. "These students have different life paths and experiences that add to the medical class and that benefit all of us. It's tough to get into medical school – everyone knows that. But the things that these students have done to get here just amazes me."