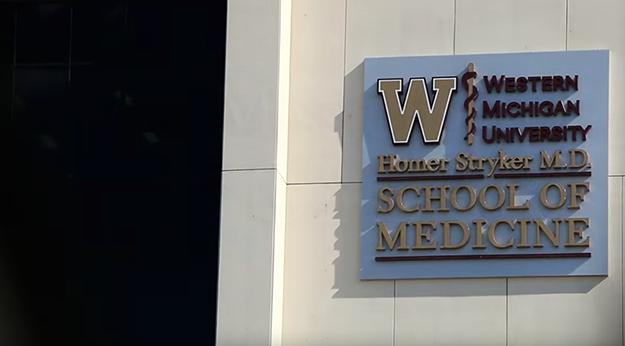 More than 70 resident physicians and fellows were honored in June for completing their residency and fellowship training at WMed.
Several programs celebrated their graduates in private ceremonies. The graduates have spent between one and five years training in Southwest Michigan. 
WMed boasts 10 residency programs in the specialties of Emergency Medicine, Family Medicine, General Surgery, Internal Medicine, Medicine-Pediatrics, Obstetrics and Gynecology, Orthopaedic Surgery, Pediatrics, and Psychiatry. There also are five one-year fellowships for Emergency Medical Services, Forensic Pathology, Hospice and Palliative Medicine, Simulation, and Sports Medicine.
Of the 77 residents and fellows celebrated this year, 12 will remain and work in the Kalamazoo area. Meanwhile, an additional 14 residents will work in other cities in Michigan. Others will work throughout the nation, while many will go on to fellowship training.
Here's a complete list of this year's resident and fellow graduates, as well as faculty who received awards:
Emergency Medicine
Emily Rachel Rozin Bon, DO (Chief)
Charles Logan Brauchla, MD
Alexander Leo Brech, MD
Kelsey Jane Burson, DO
Claire Faith Kenney Clifton, DO (Chief)
Taylor Drew Dickey, DO
Tam Minh Diep, DO
Alexandra Christine Dinello, MD
Elizabeth Ellenmarie Hoffman, MD
Lindsay Denise Nausin, DO
Raxit Parikh, DO
Timothy Michael Schiller, MD, MPH
Jessica Layne Thornton, DO
Wesley Ryan Turner, DO
Chandler Lewis Vondy, MD (Chief)
Nathan Joseph Whelham, MD
Emergency Medical Services Fellowship
Sarah Elizabeth Fichuk, DO
Family Medicine-Battle Creek
David Kobak Arenstein, MD
Lubhin Latif Bhagat, MD (Chief)
Mehsa Hassanzzadeh Langroo, MD
Salam Khalil, MD
Christian Isaac Ordaz, DO
Hesamaddin Shakourianfard, MD (Chief)
Family Medicine-Kalamazoo
Muhamid Murad Asif, MD (Chief)
Hira Khan, MD
Darrin Patrick Lund, MD
Brandon James Manderle, MD (Chief)
Michael Steven Mattia Jr., MD
Tabish Aftab Naz, MD
Cameron Lee Stump, MD
Forensic Pathology Fellowship
Hospice and Palliative Medicine Fellowship
General Surgery
Katherine Elizabeth Kramme, DO (Chief)
Kristofer Edward Nava, MD (Chief)
Rebecca Anne Rice, DO (Chief)
Internal Medicine
Muhammad Ali Akbar, MD
Melissa Anne Baker, DO (Chief)
Michael Robert Baumgartner, MD
Akshaya Gadre, MD
Michelle Nicole Helbig, DO
Kylie Jean Hendges, MD
Neil Christopher Hughes, MD
Dilpat Kumar, MD
Adam Timothy Ladzinski, DO (Chief)
Hamzah Mohammed Lateef, MD
Aditya Mehta, MD (Chief)
Nirmal Muthukumarasamy, MD
Venumadhav Rayasam, MD
Medicine-Pediatrics
Marie Dominica Arnaout, DO (Chief)
Syed Sami Haider, MD
Minh Hoang Nam Nguyen, DO, MS (Chief)
Anya Nicole Weaver Ring, DO
Obestetrics and Gynecology
Kathryn Marie Dominick, DO
Jessica Lynn Konal, MD
Angelica Christine Lorenzo, DO (Chief)
Caitlin Elyse Timmers, MD
Orthopaedic Surgery
Jeffrey Anton Gilberton, MD (Chief)
Kelly Anne Jenkins (Chief)
Christopher John Traynor, MD (Chief)
Pediatrics
Mohammad Waleed Saeed Baidoun, MD
Mohamed Hassan Mohamed Elgendy, MD
Lance Richard Frank, DO
Nina Ann Mathew, MD
Nital Vanisha Murthi, MD
Iman Nizami, MD (Chief)
Maritza Gisel Rivera Valenzuela, MD (Chief)
Mohammad Sabobeh, MD
Haripriya Santhanam, MD
Tahnee Lynn Spoden, MD
Psychiatry
Rami Ramzi Alsaqri, DO
Kathleen Najah Carter, DO
Steven Spencer Clevenger, DO
Agam Dhawan, MD
Matthew Lawrence Kennedy, DO
Garrick Andrew Priebe, MD
Palak Shah, MD
Sports Medicine Fellowship
Jonathan Spencer Christ, MD
2022 Teaching Awards
Emergency Medicine
Alexander Brech, MD
James Hull, DO
Seth Langsam, MD
Richard Lovy, DO
Mohamed Mohamed, MD
Family and Community Medicine
Sravani Alluri, MD
Steve Pollens, MD
General Surgery
Alain Elian, MD
Katherine Kelley, MD
Internal Medicine
Mohamed Ghonimy, mD
Corey Lager, MD
Spencer Winters, MD
Medicine-Pediatrics
Joseph Fakhoury, MD
Thomas Flynn, MD
Theotonius Gomes, DO
Obstetrics and Gynecology
Paul I. Berkowitz, MD
Anna V. Hoekstra, MD, MPH
Matthew B. Shelnutt, DO
Orthopaedic Surgery
Pediatrics
Jocelyn Deleon, MD
Frank Soltys, MD
Psychiatry
Maritza Lagos, MD
Elmira Yessengaliyeva, MD