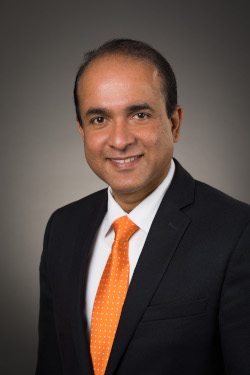 The medical school's Department of Medicine is expanding its structure as its leaders look to grow.
Santhosh Koshy, MD, who joined WMed as chair of the Department of Medicine in February, recently outlined the department's new structure and explained the importance of the timing. Traditionally the Department of Medicine has been centered around residency training programs, including from the time WMed was Michigan State University Kalamazoo Center for Medical Studies, Dr. Koshy said. 
"Over the last 10 years we have formed a medical school," Dr. Koshy said. "The foundation has been laid down and we are in the growth phase. In order to be prepared for that growth, we need to build a structure beyond the training program – a traditional department structure with different divisions that will control the operations within them."
Each division will have a chief, who is responsible for the overall management of the division. Division chiefs will have administrative, clinical, educational, and mentoring responsibilities. They will oversee operations, develop goals, oversee faculty, oversee the development of the clinical practice, and continue with active clinical practice. 
Three new divisions will be created within the Department of Medicine: the Division of General Internal Medicine, with Susan Bannon, MD, as chief; the Division of Medicine Pediatrics, with Tom Melgar, MD, as chief; and the Division of Cardiology with Dr. Koshy as chief.
Two already established divisions will continue: Daniel Brauner, MD, will continue as chief of the Division of Geriatrics, Hospice and Palliative Medicine, and Thomas Flynn, MD, will continue as the chief of the Division of Infectious Diseases. Residency or fellowship programs will be housed within their respective divisions.
Expanding divisions within the department allows members of the department to give input on the direction of the division and have more control as it grows, Dr. Koshy said. The new divisions also will give a formal structure to the department and will allow more collaboration with the medical school's clinical faculty members.
Looking ahead, Dr. Koshy said he expects to further expand the division structure in the department as needed to position it for growth.