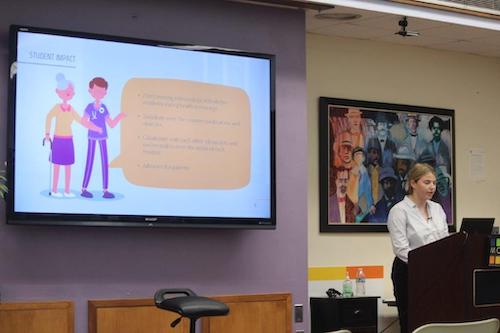 The fourth annual Health Equity Summit brought around 70 people together June 8 in a collaborative event at the Western Michigan University Multicultural Center to discuss how to build trust through community collaborative partnerships for health equity.
WMed Dean Dr. Paula Termuhlen opened the conference followed by land acknowledgment and facilitation by Candy McCorkle, WMU's vice president for diversity and inclusion. 
This year's summit, organized by WMed's Department of Health Equity and Community Affairs, was the first collaborative health summit with the leaders for diversity, equity and inclusion from Western Michigan University, Kalamazoo College, and Kalamazoo Valley Community College.  The summit included presentations from students and faculty members from each institution, as well as leaders in community health from Ascension Borgess, Bronson Healthcare, Cradle Kalamazoo, the Family Health Center, and the Northside Ministerial Alliance.
"We came together to look at how we can collaborate on health equity, build trust, make an impact and improve health outcomes for those that have disparate or inequitable health outcomes in the community we all serve," Dr. Cheryl Dickson, the medical school's associate dean for Health Equity and Community Affairs, said of the summit.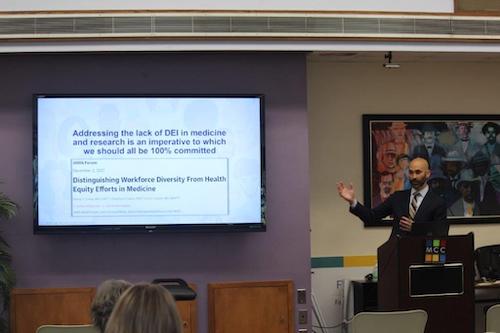 Philip Alberti, PhD, founding director of the AAMC Center for Health Justice, gave the keynote speech, titled "Centering Community Engagement to Achieve Health Equity."
"Every community begins at the same starting line for health," Dr. Alberti told the crowd. "Health equity is not about individuals, it's about populations. It's not one patient at a time. It's a population health dynamic that can only be addressed by population-level interventions that move entire communities toward justice all at the same time, not one at a time."
Following Dr. Alberti's presentation, representatives from WMed, WMU, Kalamazoo College and KVCC gave panel presentations about their diversity, equity and inclusion initiatives. Angela Groves, PhD, an assistant professor at the WMU Bronson School of Nursing and Geraldine Granados-Todd, a WMU student, presented on hypertension and diet relation in African-American women. Patrick Joswick, director of nursing at KVCC, presented with Erricka Albers, RN, about the holistic admissions policy and process, and Mark Schauer, MD, an assistant professor in WMed's Department of Medicine, presented with WMed students Tucker Morris and Amanda Hunt about the medical school's health screenings for the unhoused programs. Wraegen Williams, PhD, Kalamazoo College's Director of Careers in Health and Medicine, presented about high touch advising, a tool to improve the pipeline to medical school.
Later in the day, Jodee Rolfe, manager of community benefit at Ascension Borgess, and Joel Murr, Bronson Healthcare's director of Community Health Advancement, presented information about the Community Health Needs Assessment the health systems performed in collaboration with the Family Health Center. Carolyn Whatley, MD, chief medical officer of the Family Health Center, shared their initiatives around the COVID-19 vaccine, which included partnerships with community organizations and clinics to administer the vaccine. The audience also heard about Cradle Kalamazoo's initiative to reduce disparities in black infant mortality and Mt Zion Church's partnership with health systems and WMed to create health equity.
Having this year's Health Equity Summit be a collaborative effort reflects how all of these organizations can work together to create health justice in the Kalamazoo area, Dr. Dickson said.
"We have a responsibility," Dr. Dickson said of the organizations involved in the summit. "We're seen as leaders and we can advocate on levels that really make a difference. It's important for us to come together so that we're not competing with each other but working collaboratively with each other."